Sophie Crockett Biography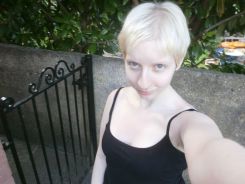 Sophie Crockett is a survivor. The middle child of working class parents in Aberdare, a former mining town in south Wales, she displayed signs from an early age that her development would be different to the average youngster. Although academically brilliant, she suffered from crippling anxiety and endured a miserable school life until she was diagnosed with Asperger Syndrome aged nine. She was home schooled until 16 but became a virtual prisoner in her own house, afraid to venture outside. Depression led to eating disorders, self-harm and body dysmorphia. Medication helped and at 17 she felt able to re-enter society. She joined the Socialist Party hoping to meet people. In a cruel twist of fate, however, it led her to Simon Tibble, a violent psychopath, who instantly viewed Sophie as a potential target.
With lightning speed he preyed on her vulnerability and social naivety and assumed complete coercive control of her life. Over the next two years he isolated her from her family and kept her as his sex slave, subjecting her to increasingly cruel forms of mental and physical abuse and torture. Several times
Sophie thought he was going to kill her. Once he attempted to kill them both. Eventually, due to her own strength of character, she escaped and Tibble was arrested. A cack-handed police investigation, however, saw her tormentor charged in 2014 with a fraction of the offences he'd committed. Jailing Tibble
indefinitely, the judge said he was a danger to all women. Told Tibble would be locked up for a long time, Sophie was horrified recently to be informed he was due for release.
Although Sophie has remarkably tried to get her life on track by studying towards a degree in medicine, potentially at Oxford, she bears the scars of her ordeal. She hopes her book will be a warning and inspiration to all women and a damning indictment of a criminal justice system that appears to punish the
victim more than the perpetrator