Stephanie Matthews Biography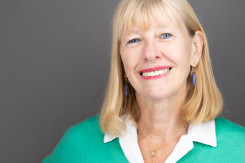 Stephanie enjoyed a career as a doctor, qualifying in Wales and specialising in Medical Biochemistry, in particular helping people with nutritional problems and inherited high cholesterol, establishing a specialist unit for LDL Apheresis. She took time out to study for a PhD in Cardiovascular Biochemistry leaving her with a zeal for research and evidence based decision making.
A passionate believer in the public and children becoming inspired by science, and giving them the knowledge to make their own informed decisions, she helped found The Darwin Centre in Pembrokeshire which has run successfully for 25 years. She also cofounded, with her husband Tony Campbell, The Young Darwinian, a journal where young people could publish their scientific ideas and projects. Children in Malawi are supported to participate, especially the girls. Interacting with the children lead to a deep interest in microplastic pollution and attempting to alter the culture of 'fast fashion'.
A consummate francophile, when she came across the Drummond murders and she found a man who was not only a father figure in her specialties of Biochemistry and Nutrition but also a hero in WW2. His murder was famous in France but unheard of in Britain and she was determined to put the record straight and redeem Jack's position in history.