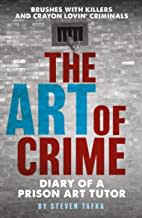 From the initial job interview, it charts the journey of a rookie art tutor from idealism to the depths of the prison underworld.
Written in diary form it follows Steve Tafka's tragi-comic, often absurd daily experiences of trying to teach the supposedly unteachable and helping them to achieve a qualification against all the odds.
Despite having a PGCE and years of teaching experience, he had to discover the art of teaching watercolours to violent gangstas, introducing murderers to Monet and how to draw a golfer on the 13th green (that's where he left the body parts).
He finds himself on an Andy Warhol style production line, doing swimming pool designs for an armed robber and trying to keep order in the classroom when one of the learners thinks he is Dolly the Sheep.
The prison finds new ways to scupper the Education Department's good work: collapsing ceilings; gas leaks; shut-downs; stolen materials; learners that disappear; alarms that don't work and moving classrooms. All this is happening as he is having to count the latex gloves in and out, so the prisoners can't smoke them, and watch out for illicit hooch brewing behind the classroom radiators.
This book gives a rodents-and-all insight into the dysfunctionality of prison life, the often-abject conditions, but more importantly the power of art to transform lives. There is an undoubted fascination with the art prisoners make, because it has something to tell us about the human condition and this book reveals the characters behind it.