Trevor Homer Biography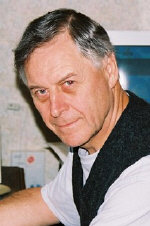 Trevor Homer is an author and businessman, living and working in the West Midlands.
He is the author of The Book of Origins. The book aims to show the origins of almost everything, from Art to Zoos via Sport, Language, Buildings, Money, Crime and lots more. The Book of Origins was published in the UK in 2006 by Piatkus Books, now part of Little, Brown Group, and published in the USA by Penguin. It has been sold to ten other countries.
Trevor's second book, Born in the USA, chronicles most of the great advances in the human race that were brought about in the USA. Born in the USA was published in 2009 by Skyhorse Publishing of New York. Subjects range through the kitchen, the fields, the office, the battlefield, the operating theatre, and into outer space. Medicines, leisure pursuits, sports, new types of music, new types of food, and new ways of communicating are all covered.
In a previous life Trevor won the British Amateur Golf Championship and represented Great Britain and England on several occasions. He tried professional golf, but was quickly bored with the constant travel and time away from friends and family.
Trevor is currently working on books about sport and celebrities.
How I Found the Agency
I discovered Andrew by going through the Writers' and Artists' Yearbook. Andrew was the most responsive of the agents I contacted and even took the trouble to call me back at 9.00 o'clock at night in response to a voicemail I had left. This counts very highly with writers.
I confess I was attracted to someone who had represented such luminaries as Sir John Mills, Norma Major and John Le Carré.
My sincere thanks go to Andrew for his support, his patience, and his advice. I would not have been published without his commitment.