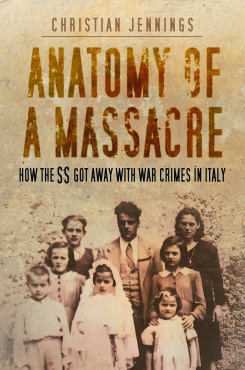 Survivors of a notorious Waffen-SS massacre in Tuscany have spearheaded a seventy-five year fight to bring the killers to justice. These Italians were all young children on 12th August 1944. On that long day of wartime summer, German troops from the 16th SS Panzergrenadier Division executed up to 560 Italian civilians in a savage reprisal operation. It happened in the olive groves and chestnut woods of the Tuscan mountain village of Sant'Anna di Stazzema. More than 80 of the victims were children, one barely three weeks old.
It remains the most high-profile war crime ever committed by the Germans in Italy in WW2. None of the SS killers responsible have ever served a day in prison. Ten of them were sentenced to life imprisonment in absentia by Italian courts – Germany did not extradite them, and they died in freedom. Other SS men who took part in the Sant'Anna massacre, and other killings, also escaped justice.
From Tuscany to Rome and Germany, Anatomy of a Massacre tells the story of what happened at Sant'Anna di Stazzema, and how the killers escaped justice. Told partly through the personal stories of three Italian survivors, it follows them from childhood to the present day, as they battle to try and ensure that those who massacred their family, friends and village do not escape justice. Now pensioners, they've testified in Italian war crimes trials, and pressured Italian and German governments and senior European justice officials. They have never given up.
A compelling mix of humanity, history and investigative writing, the book looks at how almost every single man in an entire SS division, that killed more civilians in Italy than any other German unit, got away with murder. Only two SS officers from the 16th Division were ever imprisoned. One, the commanding general and a notorious war criminal, was sentenced to life imprisonment, but then released early after serving a short sentence.
Until his death last year, one of the former SS officers who escaped justice was the world's highest-ranking, living Nazi war criminal. 75 years on from the massacre at Sant'Anna di Stazzema, what the survivors want more than anything is that present and future generations know what happened, and why to this day justice has never been delivered.