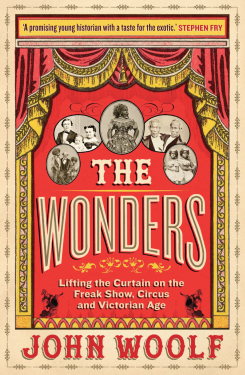 A radical new history of the Victorian age: meet the forgotten and extraordinary freak performers whose talents and disabilities helped define an era.
On 23 March, 1844, General Tom Thumb, at 25 inches tall, entered the Picture Gallery at Buckingham Palace and bowed low to Queen Victoria. On both sides of the Atlantic, this meeting marked a tipping point in the nineteenth century - the age of the freak was born.
Bewitching all levels of society, it was a world of astonishing spectacle - of dwarfs, giants, bearded ladies, Siamese twins and swaggering showmen - and one that has since inspired countless novels, films and musicals. But the real stories (human dramas that so often eclipsed the fantasy presented on the stage), of the performing men, women and children, have been forgotten or marginalized in the histories of the very people who exploited them.
In this richly evocative account, Dr John Woolf uses a wealth of recently discovered material to bring to life the sometimes tragic, sometimes triumphant, always extraordinary stories of people who used their (dis)abilities and difference to become some of the first international celebrities. And through their lives we discover afresh some of the great transformations of the age: the birth of showbusiness, of celebrity, of advertising, of 'alternative facts'; while also exploring the tensions between the power of fame, the impact of exploitation and our fascination with 'otherness'.