John Woolf Biography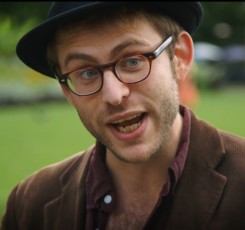 John Woolf was born in 1988 and read History at Downing College, Cambridge, where he was awarded two scholarships before gaining two further scholarships at Goldsmiths, University of London, where he worked on his fully-funded PhD. His doctorate explored nineteenth-century 'freak shows' and was awarded in August 2016.
John has co-written a twelve-episode Audible book on Victorian History with Stephen Fry and Nick Baker of Testbed Productions. John also works as a freelance researcher, most recently with Channel 5 and What Larks Productions, and made his first onscreen appearance in a BBC4 documentary, Dwarfism in Art, aired in 2018.
Previously, John has worked as a Development Researcher with What Larks Productions, established by the comic Jo Brand, and as a Researcher on The Real Tom Thumb: History's Smallest Superstar (90-minute single-film, BBC4), presented by Lord Michael Grade. This documentary was based on a chapter in John's PhD; he pitched and developed the idea before working as the Researcher during production. John was subsequently the Assistant Producer for Queen Victoria's Letters: A Monarch Unveiled (120-minute two-part film, BBC4), presented by AN Wilson.
John has also taught in India and the UK, working as a Seminar Tutor at the University of London, peripatetic tutor at Latymer Upper School and as an English teacher in a Buddhist Monastery in India. He is currently a School Governor in Islington. John has published for The Inkling, an online culture magazine, and CAPA: The Global Education Network and is currently working on a chapter publication for Palgrave Macmillan.
How I Found the Agency
After my PhD, I wanted to turn my doctorate into an accessible history book so I began exploring agencies for representation. I drew-up a list of agencies with Andrew Lownie Literary Agency at the top of that list. I submitted my book proposal and was thrilled when I received a swift response from Andrew, alongside an extremely helpful reader's report, which illuminated my weaknesses (there were quite a few!). So, I went away, read Andrew's fantastic Stalin's Englishman and developed my own writing style and amended the proposal. Naturally, I was thrilled when the second proposal was accepted and Andrew offered me representation.