John Woolf Biography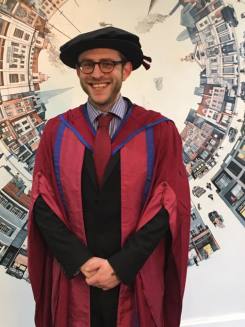 John Woolf was born in 1988 and read History at Downing College, Cambridge where he was awarded two scholarships before gaining a fully-funded PhD at Goldsmiths, University of London. His doctorate explored nineteenth-century 'freak shows' and was awarded in August 2016.
During his time as a PhD scholar, John worked in radio and TV; namely, as a Development Researcher with What Larks Productions, established by the comic Jo Brand, and as a Researcher on The Real Tom Thumb: History's Smallest Superstar (90-minute single-film, BBC4), presented by Lord Michael Grade. 'This documentary was based on a chapter in John's PhD; he pitched and developed the idea before working as the Researcher during production. John was subsequently the Assistant Producer for Queen Victoria's Letters: A Monarch Unveiled (120-minute two-part film, BBC4), presented by A.N. Wilson.
John has also taught in India and the UK, working as a Seminar Tutor at the University of London, tutor at Latymer Upper School and an English teacher in a Buddhist Monastery, Shimla, India. John has also published in CAPA: The Global Education Network and is a School Governor in Islington. John is active in politics, running as a council candidate in 2014, and working with MPs Catherine West, Emily Thornberry, Daniel Zeichner and PPC candidate Suzy Stride.
John is currently working as a Series Consultant and Researcher with Carnival Films (the makers of Downton Abbey), developing a new screenplay alongside the twice BAFTA-nominated writer, Tom Edge. John is also developing a twelve-episode Audible book with Stephen Fry and Testbed Productions and continues to work as a freelance researcher for What Larks Productions.
How I Found the Agency
After my PhD, I wanted to turn my doctorate into an accessible history book so I began exploring agencies for representation. I drew-up a list of agencies with Andrew Lownie Literary Agency at the top of that list. I submitted my book proposal and was thrilled when I received a swift response from Andrew, alongside an extremely helpful reader's report, which illuminated my weaknesses (there were quite a few!). So, I went away, read Andrew's fantastic Stalin's Englishman and developed my own writing style and amended the proposal. Naturally, I was thrilled when the second proposal was accepted and Andrew offered me representation.