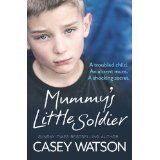 Casey's Unit is, as ever, full of troubled, disaffected pupils; disruptive Carl, with his learning difficulties and episodes of violence, Cody, whose alcoholic mother used to lock her in cupboards and is now quite profoundly disturbed, eleven year old Connor, who has Asperger's and is bullied remorselessly, Hyper-intelligent Ria, who refuses to do as she's told, and new arrival Leo, who is something of a conundrum.
Thirteen year old Leo isn't a bad lad – in fact, he's generally polite and helpful, but he's in danger of permanent exclusion for repeatedly absconding and unauthorised absences, for which he is never able to provide any explanation; indeed, when quizzed he refuses to say a word. Gary Clarke, the school Child Protection Officer, has been trying his best for him for the last year and now Leo's absences are increasing, is beginning to wonder what to try next. Despite letters being sent home regularly, his mother never turns up for any appointments, and when the school calls home she always seems to have an excuse and/or assures them that this will stop. Trouble is, it never does.
Casey's already aware of Leo, as she's seen him around school a fair bit; he's a friend of James, one of the boys who used to be in the Unit. She's always rather liked him, and when she overhears Mike Moore and Gary Clark discussing him in the staffroom one lunchtime she asks if she can join the conversation. She knows that Gary won't like having to hear that his current 'project' is about to be excluded and though she has her hands full, offers to intervene for a while, to try get him engaged in learning again and remaining in school. The head's sceptical though, explaining to Casey that he doesn't hold out much hope. He also warns that she should know that this is Leo's very last chance.
With the gauntlet thrown down and the clock to permanent exclusion ticking, Casey now knows she's got a job on her hands. But she's determined, because there's something about Leo that makes her want to fight his corner, and get to the bottom of whatever it is that compels this enigmatic boy to keep running away. Where does he go? What does he get up to? Is it to do with drugs or crime? They do know he has an older brother fighting in Afghanistan. Might Leo's compulsion to abscond be related to that? It could be so many things, but with Leo so resolutely tight-lipped and secretive, Casey knows that, if she's going to keep this child in education, she's going to have to get to the bottom of it herself…