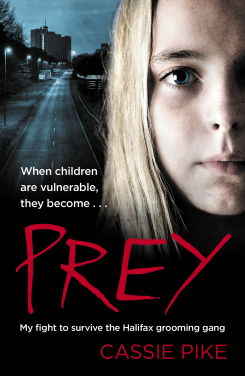 Cassie Pike was a lonely girl. From the earliest age, she had been a young carer to her dying mum while suffering the rages of her violent dad. Then Cassie's life imploded when, aged 12, her mother was taken into fulltime care and her father and eldest sister both left home.
Cassie was forced to fend for herself. Somehow she survived where was little food, often no electricity and certainly no love or parental care. In the park with her friends late at night she was offered vodka and cannabis by older men.
She thought they were her friends – she had no idea she was actually their prey.
There was Ali, Harry, Tupac, Immi… all Asian men, all much older than her. They plied her with booze and drugs and when she was too drunk and high to say no, they raped her.
Trapped in a cycle of shame and misery, Cassie took drugs constantly to numb the pain of the abuse. As the years passed, the drugs got harder and the number of men increased until it got to the point where Cassie didn't want to wake up any more.
At 16, Cassie finally escaped and, with the help of her new foster family, she found the courage to open up about the Child Sexual Exploitation (CSE) she had suffered.
Her revelations to the police prompted the largest CSE investigation in the UK and her evidence led to 17 convictions for crimes such as rape and child trafficking totalling over 175 prison time.
The Halifax child sex ring case was unique in relying mostly on one witness – and yet Cassie has undoubtedly saved many other girls from the same terrible fate she suffered.