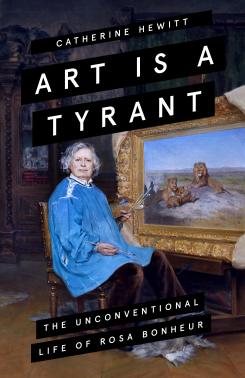 Rosa Bonheur was the very antithesis of 19th-century society's feminine ideal. She was educated, she shunned traditionally 'feminine' pursuits, she rejected marriage and she wore trousers. But exceptionally, the society whose rules she spurned accepted her – because by the mid-19th century, Bonheur was perhaps the greatest painter of animals France had ever seen.
Rosa was born into a family of artists and her father subscribed to Saint-Simonian principles, meaning that he believed in equal education for the sexes – this at a time when many girls were only taught domestic skills. Rosa learned to draw and read at home, but at school she was an unruly child. When a sewing apprenticeship failed, her father began training her as an artist. And once she started producing paintings of animals, her talent astonished those around her.
In the eyes of 19th-century society, Rosa represented a bewildering paradox. That a member of the fairer sex could produce such powerful paintings was extraordinary; but for a girl who seemed so unfeminine to do so using the most delicate touch and sensitive observation was positively astounding. Rosa began training in earnest. She even insisted on carrying out dissections with veterinary colleagues in order to understand animal anatomy – such a thing was unheard of for a woman and considered deeply shocking.
However, Rosa's artistic skill soon attracted attention, and in 1848 she received a government commission for an enormous painting entitled Ploughing in the Nivernais (1849). This first great success launched her career and in 1853, she exhibited the painting which would secure her renown, The Horse Fair. She became famous in France, England and America, and began accumulating awards and commendations. In 1865, the Empress Eugénie of France paid her a surprise visit to announce that she had been made Chevalier de la Légion d'honneur, making her the first woman ever to have held this distinguished title. She was then promoted to Officier de la Légion d'honneur in 1894 and was also decorated by the Emperor Maximilian of Mexico and King Alphonso XII of Spain. Rosa's fame even took her to England and Scotland, where she dined and debated with critic John Ruskin and Queen Victoria, who was a great admirer, requested a private viewing of her work. The Prince of Wales, the future Edward VII, begged her for an autograph, while Buffalo Bill paid her a visit and used her portrait of him on his billboards when he toured Europe. Still, Rosa was forthright and never pandered to celebrity; her dislike of the Goncourt brothers was public knowledge and she was not afraid to answer back when Emperor Napoleon III's illegitimate half-brother, the Comte de Morny, asked her to abandon one of her cherished pictures.
But despite her professional prestige, Rosa's lifestyle remained firmly at odds with 19th-century social mores. Though her art was conservative, her personal life was radical. The painter kept lions and monkeys in her home, she rode her horse resolutely astride and she was often mistaken for a man. She shared an intimate relationship with the eccentric, self-styled inventor Nathalie Micas, who nurtured the artist like a wife. When Rosa's fame brought her unimaginable wealth, she purchased a château on the edge of the Fontainebleau forest, and with her menagerie of animals, Nathalie's outlandish inventions and Nathalie's mother, Mme Micas's experimental cooking, the trio became one of the most extraordinary households of the day. When Nathalie died, Rosa caused a scandal by falling into a similar relationship with the much younger American artist Anna Klumpke, whom she openly referred to as her 'wife'.
Using Rosa's letters, memoirs and primary sources, this biography peels away the layers of the stalwart facade to reveal a woman of both fierce determination and profound sensitivity, a kind and modest soul whose principal passion besides her art was the animals she painted.
Art is a Tyrant explores what it meant to be a genius trapped in a body for which a gendered society predestined a subordinate role and the more modest pursuit of homemaking. The story tells of a woman fighting for equality and recognition in a gender-biased profession. It is a tale of passion and creativity, family and friendship, of one woman's determination to do what she loved – and her refusal to compromise, whatever the cost.