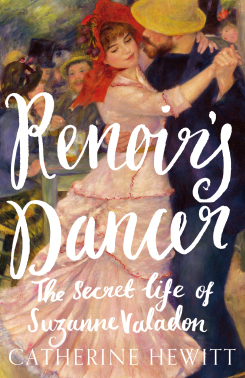 In the 1880s, Suzanne Valadon was considered the Impressionists' most beautiful model.
With her golden hair, dramatic eyebrows and intense stare, Suzanne stole the hearts of the painters and their public. But behind her captivating façade lay a passionate, tempestuous character with a dramatic past and a closely-guarded secret.
Born Marie-Clémentine Valadon in the heart of rural France, Suzanne was the illegitimate daughter of a linen maid. When her mother's poverty obliged her to move to Paris, eleven-year-old Suzanne moved from one unskilled job to the next until, aged fifteen, she was offered employment in a circus. However, tragedy struck when she fell from a trapeze and suffered a devastating injury. It ended her career as an acrobat, but steered her into the profession which would define the rest of her life: painting.
The blossoming teen began working as a model in Montmartre, where her beauty quickly won her admirers. With growing confidence, she posed for - and had affairs with - some of the most renowned painters of the day, including Renoir and Toulouse-Lautrec. Suzanne basked in the artists' attention and relished her new career, until one day, Renoir caught her indulging in a passion she had been trying to conceal: she was drawing. Her secret was discovered: Renoir's model was a talented artist.
The Paris art scene was still a steadfastly male environment, but her low class and modelling career enabled Suzanne to enter the profession discreetly. And when she began painting, she excelled, producing vibrant still lifes and portraits which showed the human form in a frank, matter-of-fact style. Some found her work shocking, but artists Toulouse–Lautrec and Degas, who became her great friends, could see her skill. Degas encouraged her painting and affectionately called her his 'Terrible Maria'. Rebellious and opinionated, Suzanne refused to be confined by tradition or gender stereotypes; in 1894, her work was accepted to the Salon de la Société Nationale des Beaux-Arts, an extraordinary achievement for a working-class woman with no formal art training.
However, once her talent was acknowledged, Suzanne's outrageous, bohemian lifestyle caused a scandal. She gave birth to an illegitimate son, the painter Maurice Utrillo, when she was just eighteen, she enjoyed affairs with countless painters and composer Erik Satie before marrying stockbroker Paul Mousis, then divorcing him and having an affair with her son's friend, the much younger painter André Utter, with whom she exhibited paintings
Renoir's Dancer uses new material to tell a remarkable tale of an ambitious, headstrong woman fighting to find a professional voice in a male-dominated world, while revealing a personal plight of a young girl's quest for love and a single mother's battle to save her alcoholic son.