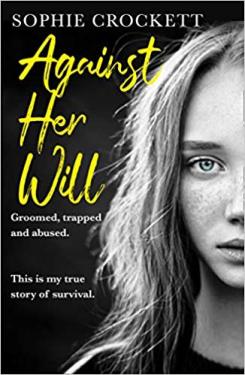 Canvassing for a political party, 17-year-old Sophie Crockett was cold and tired. She wanted to go home. 'Just one more door,' her colleague said. Reluctantly Sophie agreed. One more couldn't hurt, could it? What Sophie couldn't know was that lurking behind the door of the house in Abercynon, south Wales, was Simon Tibble, a 30-year-old sex maniac who saw, in the socially-awkward teenager, a potential victim. Over the next two weeks he used the pretext of joining her party to worm his way into her life. In sickeningly quick time he had Sophie under his complete control and for the next two years kept her prisoner as his sex slave, torturing her physically and mentally, driving her to the edge of sanity.
To understand how vulnerable Sophie was to Tibble's evil manipulation, it is vital to appreciate her impossibly difficult childhood. Plagued with anxiety and phobias, she was bullied by teachers who didn't understand her underlying condition. Despite being way ahead of her classmates academically (she was reading Dostoevsky and Dickens aged eight), her life was made misery at the Catholic school in Aberdare by unsympathetic educators and boys who sexually harassed her with impunity. She was diagnosed with Asperger Syndrome at nine and by ten was being home schooled. But her problems were only just beginning.
Suffering from crippling anxiety and depression, Sophie found leaving the house a struggle. Over the next seven years she developed obsessive-compulsive disorder, had dangerously low self-esteem and became anorexic and bulimic, which led to self-harming. Her weight dropped to eight stone and doctors warned she would have to be hospitalised. Eventually prescribed antidepressants and anti-anxiety medication she began to venture outside. She joined the Socialist Party to meet people. That's when she met Tibble.
Rejecting her desperate family's pleas to leave Tibble, Sophie fell deeper under his spell and moved into a cottage that became a house of horror. Tibble, 6ft plus and 16st, forbade her from leaving the house, refused to be separated from her and carried her around, fed and washed her and even accompanied her to the toilet. Using her as a sex object, he repeatedly violently raped her, nearly strangling her and almost breaking her hipbones. He abused her dog, forced her to steal to fund his drug habit and kept her in near darkness. The only activity he allowed her was the making of ragdolls – fittingly, as that's what she had become.
For two years, Sophie, who had no social skills to rely on, survived through sheer will, repeating a mantra to herself: 'Nothing lasts forever.' Obsessed about them dying together, Tibble one day came at her with a knife saying, 'Today we die.' Eventually managing to escape into the protection of her family, Sophie bravely told police all about her torment. Tibble was convicted of false imprisonment but after five years is soon to be released. Sophie's story is not only a harrowing account of her ordeal, but a damning indictment on how sex victims are treated by the criminal justice system.