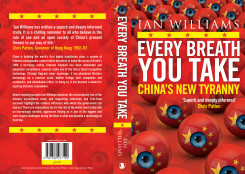 China is building the world's first digital totalitarian state, a system of hitherto unimaginable mass surveillance and social control - where Big Brother meets Big Data.
Internet freedom has been eliminated. China's internet has been cut off from the rest of the world, its power harnessed for social control. A system of 'social credit' tracks every detail of online behaviour and rates every citizen according to their loyalty – a rating that can affect access to goods and services, jobs, travel and education.
China is being blanketed with CCTV cameras harnessed to the latest artificial intelligence software, a 2 billion strong database of photos able rapidly to identify suspected dissidents and criminals from their faces (even expressions and moods) and by their gait.
Restive Xinjiang province in China's north-west is ground zero, a proving ground, where everyone must have spyware preinstalled on their phone. ID cards carry DNA information and 'reliability status'. And as a direct result, 5% of the province's population are now in 're-education' camps.
History is being re-written with a permanence and efficiency never before possible. China is digitising archives, eliminating and amending as it goes. Technology is driving President Xi Jinping's ambition to become China's most powerful leader since Mao. The digital totalitarian state is a joint venture between the Communist Party and China's nominally private Big Tech companies, harvesting their vast trove of data.
Beijing has plundered Western technology on a massive scale, through a vast system of cyber espionage. It has bullied Western tech companies and academics, though all too many have been willing accomplices, acting as handmaidens of the Party in exchange for access to the mythical 'China market'.
This is not a book about a dystopian future, but something that is happening now, and which is a challenge and warning to us all. Beijing is aggressively exporting digital totalitarianism. It has become a model for aspiring autocrats everywhere.
China has a blueprint to lead the world in defining technologies of the 21st century, such as artificial intelligence and bioengineering. Its 'Belt and Road' initiative of massive infrastructure investment along Asia's 'new Silk Road' seeks to buy influence and remake the world economic order. It is bullying and intimidating critics from Africa to Australia and New Zealand. From Eastern Europe to America. The cash-strapped UK is a prime target. While Russia's 'influence operations' are widely reported, China's are more extensive, more effective and are going largely unchallenged. Beijing has weaponised tourism, trade – even its army of overseas students.
Western criticism (even of mass detentions in Xinjiang) is muted, but there are the first signs of push-back. A technological arms race between China and the West is gathering pace. China not only poses a direct threat to the West, but demonstrates what happens when 'dual-use' technologies are unleashed without restraint or oversight. Our own safeguards are worryingly fragile as potentially repressive technologies develop at break-neck speed.