Ian Williams Biography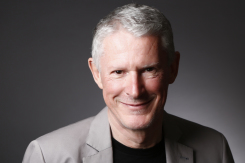 Ian Williams is a journalist by training, with extensive experience living and working in China, and a solid grounding in technology. He wrote about popular science for the Sunday Times, before becoming that newspaper's business correspondent. He then moved to television, first with Channel 4 News and most recently with NBC News.
For twenty-five years he was a foreign correspondent, based first in Russia and then in the Far East. His more recent assignments have been to bureaus in Hong Kong, Bangkok and Beijing. He has also covered conflicts in the Balkans, the Middle East and Ukraine. As well as broadcasting, he has written extensively for NBC online.
He has been reporting from China on and off since 1996, and has travelled throughout the country. He has reported on human rights issues and the evolution of the Chinese internet from enabler of criticism, debate and dissent to its growing use as an instrument of social control. He has travelled and reported widely in China's north-western Xinjiang Province. The Muslim area seethes with discontent and has become a proving ground of the surveillance state.
He has a close interest in cyber and privacy issues. He reported from China and Hong Kong at a time when Beijing was accused of large-scale cyber spying against Western companies, and also against the Hong Kong democracy movement. He had to defend himself against hackers seeking access to my contacts and notes. He covered the flight of the NSA whistle-blower, Edward Snowden, to Hong Kong. He has strong contacts in the cyber security community.
Such was his interest in the cyber world, that when he left NBC after nine years as Asia Correspondent, he went back to university and studied for an MSc in information (cyber) security at Royal Holloway, University of London. He graduated in December 2017 with a distinction. His dissertation, The Cyber Siege of Hong Kong, examines the use of cyber weapons by the Chinese state against the Hong Kong democracy movement, which concluded was the largest ever use of such weapons against dissent.
While studying, he wrote his first novel. It is called Beijing Smog and was published through Leicester-based Troubador Publishing in June 2017. A central theme of the book is the power of the internet and cyber spying.