James Mack Biography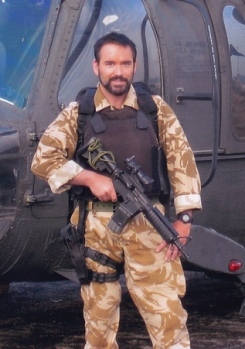 James E Mack originally grew up in a tough housing estate in the west of Scotland before emigrating to Australia with his family as a boy. The contrast could not have been any more different; from the concrete jungle of a violent Scottish housing scheme to the untouched outback of the Australian bush. The young James E Mack embraced this new world, gaining a passion for nature and adventure as he explored the incredible Australian wilderness on his doorstep with little more than a knife and a water bottle to sustain him. Climbing rock faces, tracking animals, learning the plants and food he could eat from the land around him, swimming in creeks and rivers, camping wild with only the stars for company. James came to love his semi-feral existence when exploring the Australian outback and this was no doubt formative in forging his taste for adventure in later life.
On his return to the UK as a young man, James found himself feeling listless and adrift, growing frustrated with the lack of adventure and challenge in his life. Walking past a Royal Navy recruitment office in Edinburgh one winter's night, James' attention was gripped by the images of soldiers climbing cliffs, parachuting, and skiing in the Arctic Circle. On a complete whim, he entered the office and requested more information. Several months later, James had joined the Royal Marines and after eight months arduous training, passed the gruelling Commando course, earning the coveted Green Beret. He soon found himself living the life he had seen portrayed in the recruitment posters as he deployed to the Arctic, jungles and desert environments with his fellow Commandos. Operational tours in Northern Ireland and Iraq gave James the opportunity to challenge himself in the most testing of environments where he found he had an aptitude for soldiering.
Seeking something that would push him even further, James volunteered for a Special Operations' selection course aimed at identifying and training soldiers who could penetrate terrorist organisations and disrupt their operations. James successfully passed the course and deployed immediately, working in Counter-Terrorism and Counter-Insurgency operations in various countries around the world. He progressed quickly from the role of Operator to running his own operations and teams in conflict areas and war zones. During this time, he worked with MI5, MI6, Special Branch, United Kingdom and US Special Forces, as well as joint operations with the CIA and FBI, earning several commendations for his work. After completing 22 years' service with the military, James' experience was in demand and he specialised as a Counter-Terrorism Advisor to US and UK government programs in over 25 countries around the world. He also worked closely with international Conservation Groups, establishing Counter-Wildlife Poaching programs in West Africa.
Reading has always been a passion for James and in 2017 he took this interest a stage further and penned his first novel, Only the Dead, a military thriller highlighting the impact of PTSD on service personnel. His second novel, Fear of the Dark was published in 2018 and his third, The Killing Agent in 2019.
How I Found the Agency
When I was seeking representation, I researched many literary agencies that I thought might be interested in my submission. Andrew stood out from the pack due to the quality of authors that he represents and that I was familiar with as a reader. It was also evident that Andrew's relationship with these authors is a close one and this was also very appealing to me as my previous experience with a literary agency was not a particularly good one. When I submitted my proposal and manuscript sample, Andrew contacted me directly and from that point on, the journey has been nothing short of exciting and positive. Well above and beyond my expectations!