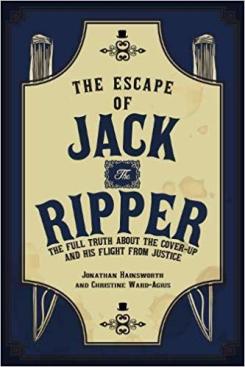 This book, compiled from years of meticulous research at last presents the case for the upper-class Police Chief, Sir Melville Macnaghten's claim that there was only ever five murders and one genuine suspect for the atrocities performed by 'Jack the Ripper' and why in a carefully filed official document, he named him as M J Druitt.
What would you have done? If you had walked in the footsteps of the Druitt family in late 1888, burdened with the belief that a once bright, talented and beloved family member was in fact leading a double life as 'Jack'?
The highly accomplished Druitt clan, the very best example of Victorian respectability are investigated for the first time, revealing an anguished and agitated cohort, making several unsuccessful attempts to alert authorities that the 'Ripper' they were searching for after December 1888 was in fact already deceased. Their conundrum was ensuring that no innocent would ever hang for the crimes of their Montague, while maintaining their anonymity.
The chronicle of this infamous mystery of the Victorian era usually begins and ends with the impoverished streets and neglected souls of Whitechapel. In truth, it spans the gamut of London society, upstairs and downstairs. From the East End to genteel London society, picturesque Dorset, the legal circles of the Inner Temple and the anonymity of the private asylums of Paris and London.
Who was Montague Druitt, this Victorian equivalent of the modern day serial killer Ted Bundy?
He was young, handsome, highly educated in the best of English public schools, professional and a first class cricketer who had played alongside the famous W.G.Grace.
Described as 'that remarkable man' by Sir Melville Macnaghten, it is revealed he held a personal motive for protecting the Druitt's reputation. Even though so called 'Ripper' murders continued after Druitt's death, he ensured that no person was ever charged for the five murders in the autumn of 1888.
Many social reformers and the famous writers George R. Sims and George Bernard Shaw believed these murders could serve as a catalyst for the awakening of a social conscience in the ruling elite. The unpalatable concept of the 'Ripper' as a social reformer was widely debated however in reality, his actions were most similar to those of the modern day terrorist.
This fascinating story is revealed fully for the first time, with many never before published photographs including the newly discovered, last known image of Druitt. The machinations of his family and their nexus of upper-class connections were able to mis-directed the public until the 1960's when Macnaghten's report was finally, reluctantly revealed.
The serial killer of 1888 was not poor, not foreign, not unknown. He was M.J. Druitt, the product of the best of Britain.