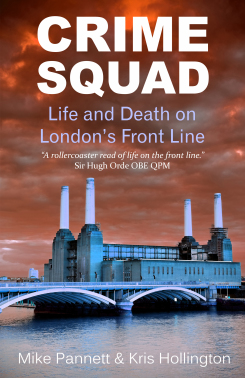 It was 23-year-old Mike's first trip to London. The Yorkshire lad suspected it was going to be different from the Dales but after being confronted by prostitutes and pickpockets at Kings Cross Station, the trainee PC knew he was in for a wild ride.
Sent south of the river to Battersea, then top of London's crime league tables, PC Pannett was inducted into a tight-knit crew of policemen and women with nicknames like 'Dr Death' and 'Foxy', including the young son of a Lord and a gentle giant who liked to lift Minis off the ground for fun.
Their mission: to clean up the notorious Winstanley estate, the most criminally rampant square mile in the UK, home to gangs, guns and drugs. Mike's very first drugs raid ended with him staring down the wrong end of a criminal's loaded double-barrelled shotgun.
As well as trying to shut down the emerging crack gangs, Mike was also at the heart of some of the biggest crime stories of a generation. He was first on scene at the Marchioness disaster, in which 51 people died (and risked his own life to save others) and fought in the Poll Tax riots without armour, using dustbin lids for a shield. He helped deliver a baby during the ambulance drivers' strike and was standing outside No.10 the day Maggie left and the day John Major arrived. Young Mike often fought for his life against street robbers and drug dealers and, after being first on scene to a horribly-mutilated victim, joined the successful hunt for a serial rapist
Crime Squad doesn't let up for a single sentence. Full of humour and heart-stopping action, as Mike, an innocent lad from the Yorkshire Dales, learns to grow up fast to stay alive, winning the trust of a close knit team of hardened officers in the process before gaining the support of a frightened local community.
Mike comes to know the Stick 'em Up Kids and the So Solid Crew and witnesses the rise of one of the most infamous murderers of modern times: Britain's most dangerous man, King of the Yardies and cop-killer Gary Nelson, aka 'Tyson'. Nelson murdered Mike's colleague, Patrick Dunne, shooting him dead in cold blood in 1993.
Crime Squad ends as Mike and his courageous team start to turn the tide against the Yardies of Winstanley (culminating in armed officers abseiling down the outside of a towerblock to raid a fortified crack house) but at the last moment they learn that the battle has only just begun.
At turns thrilling, hilarious, heart-breaking and terrifying, Crime Squad takes readers on an unforgettable ride that knocks every other tough-cop story into a cocked hat.