Luke Daly-Groves Biography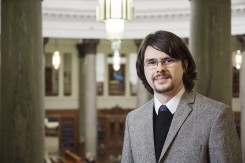 Dr Luke Daly-Groves is an historian of modern Europe, a Visiting Research Fellow at the University of Leeds, a Lecturer in History at the University of Central Lancashire and a Fellow of the Royal Historical Society.
Luke's publications include Hitler's Death: The Case Against Conspiracy . He has written for New Statesman, The Spectator, History of War, The American, Literary Review and Dan Snow's History Hit. Luke has appeared on podcasts and filmed interviews with Guy Walters, Dan Snow, James Holland, Al Murray, and Roger Moorhouse.
How I Found the Agency
I've always wanted my history work to be widely read as I think that is one of the key duties of a historian, to disseminate knowledge of the past. To do this, I needed to get my books in the shops and to do that, friends told me I needed an agent. Andrew Lownie was recommended to me by two Professors who I greatly respect. To be represented by Lownie, they said, would secure my career as a writer.