Margaret Siriol Colley Biography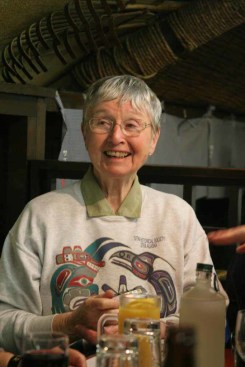 Margaret Siriol Colley was born in London to Welsh parents on 6 June 1925. She spent her school holidays at her Grandparents' home Eryl in Barry South Wales which at the time was a hub of social and political life. It was there that she learnt Welsh, came across many eminent men and women of the time and was regaled with exotic tales of travel by her doting uncle Gareth Jones. In 1940 Margaret was evacuated to Canada where she began studying medicine, later graduating from University of St Andrews in Scotland. She worked as a GP in Nottingham for 35 years alongside her husband Raymond Colley and together they had four sons. She was widowed in 1973.
It was the mysterious death of her beloved uncle Gareth that prompted Margaret's writing career. In 1935, Gareth was captured, held for ransom and then, on the eve of his 30th birthday, murdered in mysterious circumstances in Inner Mongolia. His glittering career in journalism was brought to an end. The family was devastated. Gareth had been foreign affairs adviser to Lloyd George, was the first journalist to travel with Hitler and had exposed the famine raging across the USSR in 1933. But after his untimely death he was forgotten by history.
On her retirement, Siriol began researching her uncle's death and devoted the rest her life to uncovering his remarkable life story. Her initial reliance on records released by the Foreign Office was spurred by the discovery of a treasure trove of letters and diaries preserved at the family home. Some of those diaries are considered the only reliable evidence of the Holodomor famine which killed millions, but which was denied by the Soviet authorities for over half a century.
In 2001 she published her first book The Manchukuo Incident which looked into the circumstances surrounding his death and documents the investigative world tour that preceded it. After her son Nigel Linsan Colley set up a website www.garethjones.org the story began to receive worldwide attention and was taken up in particular by members of the Ukrainian diaspora. Encouraged by this interest, and aided by Nigel, Siriol began work on her second book, More than a Grain of Truth, the definitive biography of Gareth Jones. It is an account of a truly fascinating life and a searing social and political history of the early thirties.
Margaret Siriol Colley died at the age of 85 in November 2011, happy in the knowledge that she had achieved her aim to restore her uncle's legacy and his place in history as a great Welsh hero and seeker of truth. A film Mr Jones based on her book and starring James Norton in the lead role was released in the UK on 7th February 2020. To coincide with the film a new and revised edition of More than a Grain of Truth, edited by Naomi Field, has been released with Endeavour Press.