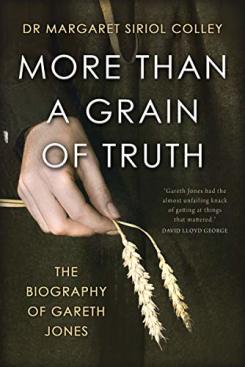 Gareth Jones was a brilliant young Welsh journalist whose action-packed life came to an abrupt end in mysterious, and controversial, circumstances. In August 1933, after stumbling upon a contingent of Japanese troops poised to invade China, he was kidnapped by bandits and held for ransom. The world held its breath, hoping for his release, but after two terrible weeks in captivity he was shot dead after falling from his horse, one day short of his 30th birthday.
Academically brilliant and fluent in five languages, after graduating from Cambridge, Jones was first employed by David Lloyd George as a Foreign Affairs adviser, before later taking up journalism. His extensive travels, particularly in Germany, the Soviet Union and America, and his contacts and interviews with many of the leading figures of the day, gave him a unique insight into the turbulent political world of the 1930s. He travelled with Hitler aboard his aeroplane and dined with Goebbels, worked for both Ivy Lee and Randolph Hearst whilst witnessing the Great Depression in America, before embarking on a World Tour to investigate the imperial aims of Japan in the Far East. In his colourful diaries, letters and newspaper articles he left behind a treasure trove of information and a fascinating resource for today's historians. His greatest scoop was to expose the great famine raging in the Soviet Union in 1933, after clandestinely walking through forbidden parts of rural Russia and Ukraine, sleeping in peasant huts along the way. But after breaking this true story to the world, instead of being feted, he was denigrated by the foreign press in Moscow, blackballed by the British establishment and blacklisted by the Soviet Secret Police. Despite being considered one of the greatest journalists of his day, this great Welsh hero was forgotten by the world.
But Gareth's family did not forget him and in 1985, his niece, Dr Margaret Siriol Colley set about rescuing her beloved uncle's memory from complete obscurity. After retiring as a GP she devoted the rest of her life to researching his story, and aided by her son Nigel Linsan Colley, she published a biography of his life More than a Grain of Truth in 2005. It is on this book that the film Mr Jones, directed by Agnieska Holland and with James Norton in the lead role, is based. To coincide with the release of the film in February 2020 the family are reissuing a revised and improved version of this book, edited by Naomi Field.