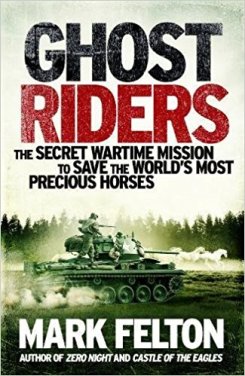 26 April 1945, German-Czech border. The war is almost over, the German army scattered and broken by battle. The day before, Germany was cut in two when US and Soviet forces met south of Berlin at Torgau. General George S. Patton's US Third Army is poised to invade western Czechoslovakia, still stubbornly defended by fanatical Wehrmacht and SS units. Sixty miles to the east Stalin's mighty Red Army is racing forward bent on swallowing up as much territory as possible before the inevitable German surrender
In a dark forest on the border a captured German colonel hands a young American intelligence officer a thick file stuffed full of black-and-white photographs. He explains that there is a POW camp full of Americans and British just 35 miles to the east. But the file does not contain POW lists but photographs of horses. The German Army remount depot at the small Czech town of Hostau contains over a thousand special horses, very special horses. The entire priceless herd of white Lipizzaner's from Vienna's Spanish Riding School, Europe's finest Arab stallions, and hundreds of thoroughbred racing horses, worth millions of dollars.
But, 60 miles to the east the Red Army is advancing at breakneck speed, with columns of T-34 tanks nosing aside remaining German resistance. They will roll up to Hostau in a couple of days and will probably destroy everything. If the Soviets kill the horses for rations Europe's most ancient and noble bloodlines will be extinguished forever. There is a choice – send a small, highly mobile US task force deep behind German lines, through fanatical SS troops, to capture Hostau, release the POWs and rescue the horses before the Soviets arrive or the SS can stop them. Just five tanks, a handful of half-tracks and 250 battle-weary GIs must plunge headlong into the unknown on a rescue mission that could change the course of European history.
So begins Operation Cowboy, the greatest World War II story that has never been fully told. GIs will join forces with surrendered German soldiers and liberated prisoners-of-war to save the worlds finest horses from fanatical SS and the ruthless Red Army in an extraordinary battle at the close of the war in Europe.