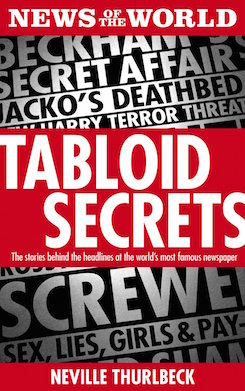 Tabloid Secrets is a fascinating, swashbuckling insight into some of the biggest and most sensational scoops by the News of the World's legendary chief reporter Neville Thurlbeck.
For 25 years, Neville served up some of the most famous headlines and he reveals for the first time how he broke his award winning stories which thrilled, excited and sometimes infuriated the nation.
The book is laced with drama, fun, humour and occasional tragedy and gives a candid first hand account of a cavalier, barn-storming Fleet Street which has vanished for good.
He reveals how he exposed Jeffrey Archer and sent the Peer to prison. And the story behind the David Beckham affair scandal which became global news.
Sensational revelation is never far from his pen, as you would expect. Including how his Robin Cook expose which ruined the politician's marriage and leadership ambitions, was engineered by jealous Labour colleagues.
The book takes us through some frightening and dark, undercover work, exposing drug dealers, killers – and a devil worshipping police officer!
The Max Mosley affair, the Chris Huhne scandal, a furious row with Gordon Brown and an undercover mission to expose a cabinet minister – with an hilarious conclusion - for hiring rent boys, all keep this book rattling along.
His solo, undercover operations at the sharpest end of journalism help make this a vivid, entertaining insight into a corner of Fleet Street which is suddenly no more.