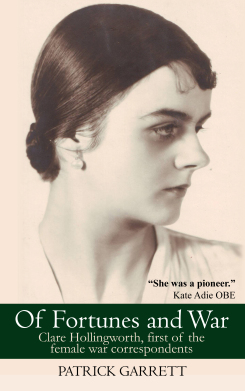 A chance find in the family attic launches an author off on a globetrotting odyssey - to learn the truth about his great aunt, Clare Hollingworth, the legendary British war correspondent. Clare was already famous for having got the "scoop of the century" - the outbreak of the Second World War, from the Polish front lines in 1939. But her old trunk revealed that there was a lot of her life story still waiting to be reported…
Did she even know that her former mentor had secretly been working for the Soviet Union? Or that her assistant in pre-war Poland was in fact a Comintern agent? And what about the KGB's suspicions that she herself was all along working for MI6?
Clare had an uncanny ability to appear on the front lines of world events - her life reads like an encyclopedia of 20th Century Warfare. From witnessing the first aerial bombing against England in the Great War, through Hitler's Blitzkrieg into Poland, Clare's résumé includes the desert war in North Africa, civil war in Greece, terrorism in Jerusalem, and guerrilla warfare in Vietnam and the jungles of Borneo.
The story is however about both love and war. We learn of the fiancée whom Clare abandoned in the 1930s, the husband she ultimately left to go off and report the war, and the husband she rushed back to, from the battlefields of Vietnam, but who died on her return. Clare never married again, and promptly flew off to cover an outbreak of fighting in Algiers. More than anything, it becomes clear, she was married to journalism.
Here at last is the full story of Clare's century-long journey from rural England, through wars and revolutions, to Britain's final "End of Empire" in Hong Kong.