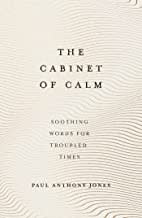 Whether we're dealing with grief and loss, pressure and anxiety, breakups and fallouts, or any of the other stresses and strains of the human condition, there are always going to be times when a few kind words will come in useful. And what is more, at times like these we can often be left searching for just the right words to describe our feelings, emotions, opinions and responses, or to express precisely what we might see as lacking in the world around us.
Thankfully, the English language is so richly equipped with words that hidden away in the murkiest corners of our dictionaries are all the terms you could ever need for these troubling times. They may be seldom used, little known, and long overlooked, but these captivating words are there to be used nevertheless—and this book collects more than 200 of them together in one volume, while neatly explaining their meanings, histories, uses and etymologies along the way.
It opens with a chapter dedicated to all those long-forgotten words that allow us to put a name to our troubled feelings and experiences. So if you're the kind of person who stresses over trivialities, then you're a nugaemaniac. The restless, frustrated boredom that often accompanies a period of illness is called alysm. The intense homesickness that kicks in as you near the end of a long time away from home is channel fever. A stound is a sudden pang of grief when a loss is unexpectedly remembered.
If you're disillusioned by the current political landscape, then you're an adullamite—a word we owe to the biblical King David's self-imposed exile to a cave near Adullam in Canaan. That voice in your head that tells you to act unwisely or rashly is the imp-of-the-perverse, a term coined in an 1845 short story by Edgar Allen Poe. And if you find yourself becoming ever more worried about the world around us, then you might be suffering mal-du-siècle, a 19th century French loanword for a dispirited, pessimistic world-weariness.
The chapters that follow this opening collection then look to turn these terms around, addressing all of these feelings and sensations with collections of wholly comforting, hopeful, and inspiring words.
So a chapter dedicated to self-care and relaxation includes the stories behind such wonderful words as horbgorble, meaning 'to wander aimlessly and purely for pleasure'; aprication, the act of basking in the sunshine; and villeggiatura, a borrowing from Italian used to describe temporary trip to the countryside to escape the city. A chapter looking at words to do with community and affinity includes such entries as eleemosynate, a verb meaning 'to donate to charity'; xenodochy, an ancient word for the extension of hospitality to strangers; and omnibenevolence, a term from the early 1800s for a kindness extended to all people.
A collection of words dedicated to friends and family includes such uplifting terms as confelicity, happiness sparked by seeing other people happy; philoprogenitiveness, the love one has for one's own children; jolly-dog, a term from 18th century slang for a friend who can always be relied on for a good time; hearthmuster, an old English dialect word for a circle of friends and family around a fireplace; and antipelargy, the reciprocal love felt between parents and children, and a term derived from the Greek word for the stork—a bird supposedly renowned for its affection and kinship in ancient folklore.
The final chapter here looks optimistically to the future, and closes this fascinating collection with such entries as meliorism, the doctrine that human effort eventually achieves progress; eucatastrophe, a term coined by Tolkien for an unexpected event of sheer good fortune; and, perhaps most reassuring of all, agathism—a term from philosophy for the belief that all things get better, though the means of getting there may not be easy.
Altogether, this dictionary of kind words for unkind times aims both to expand readers' vocabularies, with dozens of long forgotten and richly needed words like these, as well as to provide a welcome and comforting distraction—a book to dip into for comfort and illumination—when times get hard.