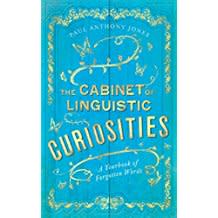 If your New Year's resolution was to better your vocabulary, then this yearbook of obscure words is a fine place to start. The Cabinet of Linguistic Curiosities is a word-lover's almanac that brings together 365 long-forgotten and long-overlooked words, each neatly and cleverly assigned to a different day of the year.
Providing far more than just a list of unusual words, The Cabinet of Linguistic Curiosities contains a full year's-worth of fascinating linguistic and etymological trivia: each daily entry is given a brief definition and a light yet informative explanation of its history and context, its etymological cousins, and, wherever appropriate, its connection to the date in question.
So on January 1 you can learn about the quaaltagh—a Manx loanword borrowed into English almost 200 years ago that refers to the first person you meet on New Year's Day morning. If you're finding your resolutions hard to keep, by January 2 you might need the word fedifragous, a 17th century adjective meaning "pledge-breaking" or "oath-violating". You can mark JRR Tolkien's birthday on January 3 with eucatastrophe, a word he coined in 1944 to describe a sudden and fortuitous event or reversal of circumstances—or, as he explained it, "a sudden happy turn in a story which pierces you with a joy that brings tears". And so it continues throughout the rest of the year.
Meticulously researched and crammed with original material, A Word A Day is the work of the same author behind the @HaggardHawks Twitter feed—which now counts the likes of JK Rowling, Joanne Harris, Robert Macfarlane and Marian Keyes among its followers—and has been written with all the wit and light-heartedness that has made its online equivalent so successful. Likewise, The Cabinet of Linguistic Curiosities provides a unique and engaging twist on this enduringly popular subject.