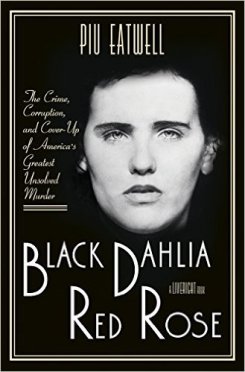 A book proposing a new and startling solution to the infamous 'Black Dahlia' murder, one of the most notorious in American history. To be published in 2017, the 70th anniversary year of the murder.
On the morning of Wednesday, January 15th 1947, the nude body of a woman was found sprawled on the edge of a vacant lot in the Leimart Park area of Los Angeles. She had been bludgeoned to death, her mouth slit wide on each side. Severe post-mortem lacerations had been made to the body. Most shocking, the corpse had been hacked in two.
The woman was subsequently identified as 22-year old Elizabeth Short, a budding starlet from small town Massachusetts. Elizabeth had made the descent from Hollywood hopeful to a seedy, hand-to-mouth existence on the fringes of the nightclub scene. Despite hundreds of police hours devoted to the case, and dozens of possible suspects – from celebrities in the movie world such as Orson Welles, to the newspaper tycoon Norman Chandler – the case remains unsolved. Newspapers christened the case the 'Black Dahlia' – derived from Elizabeth's black hair and penchant for wearing black lacey clothes. The murder has become part of Hollywood legend, one of the most elusive and puzzling of noir mysteries. And yet, whilst the writer James Ellroy wrote a splendid fictional treatment of the story in his LA Quartet, not one properly sourced factual account has been written about the case. This book is the first.
Black Dahlia, Red Rose is due to be published in 2017, the 70th anniversary year of Elizabeth Short's murder. In this book, Piu Eatwell gathers together the evidence to produce a compelling new solution to the case: a highly persuasive and virtually conclusive account as to who the killer was, why he targeted the Dahlia, and why the case has never been officially 'solved.' In so doing, she presents a dark and atmospheric picture of Hollywood in the most brutal, noir period of its history