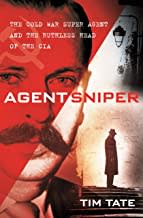 Michał Goleniewski was one of the most important, yet least understood, spies of the early Cold War. From April 1958 to December 1960, as a Lt. Colonel at the top of Poland's espionage service, he risked his life to smuggle thousands of top-secret Soviet bloc intelligence and military documents to western intelligence. In January 1961, with Polish agents hard on his heels, he abandoned his wife and children and, and with his East German mistress in tow, made a dramatic emergency defection across divided Berlin.
Goleniewski exposed more than 1600 Soviet bloc spies operating undercover in the West: George Blake, the KGB's mole inside MI6, the 'Portland Spy Ring' which betrayed British military secrets to Moscow, the deputy head of West Germany's domestic intelligence service, a senior Swedish Air Force officer and a traitor inside the Israeli government. In April 1961, a military court in Poland sentenced him to death – in secret and in absentia­ – and the Polish intelligence agency launched a lengthy covert campaign to discredit him in the West.
The Central Intelligence Agency called Goleniewski "one of the West's most valuable counterintelligence sources" and "the best defector the CIA ever had". After his defection, it contracted him as a highly-paid consultant and sponsored a private Bill in Congress to grant him American citizenship; it also sponsored his bigamous marriage to his mistress. The British Security Service, MI5, praised his information as "of inestimable value" and his "copious" and "invaluable" services to UK security. Then, in late 1963, Michał Goleniewski was abandoned by the US Government. The CIA reneged on its agreements to pay and protect him, and blocked him from testifying to Senate committees. It harassed him and starved him of money, and secretly briefed Congress and journalists that its former star defector had "lost his mind". The ostensible reason for this was Goleniewski's bogus claim to be Aleksei Romanoff, Tsarevich and heir to the Russian Throne, who had miraculously survived the 1918 massacre of the Imperial Family.
But the truth about Michał Goleniewski is even stranger than the stories he spun. He devastated intelligence services on both sides of the Iron Curtain; he was "the first and primary source on a mole" inside the CIA and Britain's MI5. For more than a decade both intelligence services were paralysed by a hunt for the traitor in their ranks. When these failed, the CIA turned on Goleniewski. The rejection drove Goleniewski ever deeper down a rabbit hole of fantasy and paranoia. By the end of the 1960s, isolated and with his funds dwindling, he genuinely lost his sanity. Ever since, the man once described as "one of the West's most valuable counterintelligence sources" has been written out of the history of Cold War espionage. Agent Goleniewski: The Best Spy the West Ever Lost is the first book to draw on thousands of pages of de-classified CIA, FBI and MI5 documents – as well as his Polish intelligence files and his own voluminous writing – and tells a dramatic and disturbing untold story of espionage and skulduggery, love and loyalty, courage and treachery.