Tom Ray Biography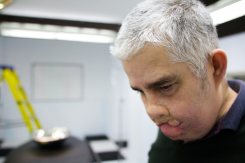 "I was born in December 1961 in Shoreham, Kent. My Dad, who was an actor and a scriptwriter, deserted the family in the early 70's leaving my Mum to bring up 3 kids on her own in the Southend and Essex badlands.
I grew up in a world of black & white TV, Green Shield Stamps and Jungle Book at the Odeon. Fun was going down the fields to play football with friends, while the musical soundtrack was provided by The Beatles, David Bowie, Elton John & Top Of The Pops. Saturday pocket money was spent on The Beano comic, a Caramac chocolate bar, Black Jack & Fruit Salad Chews. There were fights whenever my Dad deigned to return home, there was never any money for holidays or treats, Sundays were spent visiting grandparents, trying to be good, eating Spam, cabbage and pineapple chunks in freezing cold houses.
I worked diligently at school. My mum was a desperate person, full of panic, and her sense of underlying fear gradually prompted me to work as hard as I could to try and achieve academically. There were years of just trying to follow what was being taught, and to keep up – and then when I was ten or eleven, something in my imagination just clicked and I started to do really well. I improved steadily at secondary school, a good Essex comprehensive. At sixteen, I had my first girlfriend – it meant a lot to me at that age, I saw it as a chance to put right the things that my Dad had done wrong. A way of proving I was good. And by the time I was eighteen, I had the grades I needed to get a place to study English & French at Exeter University.
I read everything at university – everything. I loved Chaucer, Shakespeare, Moliere, Arthur Miller, James Joyce, W B Yeats, Flaubert, Anne Tyler, Steinbeck, Steven Berkoff. I adored them. Being given the time to study all these writers and to discuss their work with brilliant tutors opened up every creative window in my mind. I also joined the university drama society and took leading roles in many productions. I found a new home there, a new family.
I met Nic at university, and the first time I saw her, I fell in love. But I felt an obligation to my school sweetheart, so I suppressed the feelings I had for Nic. I avoided her.
What happened after university was difficult, inevitable, sad. I married the girl I'd known in school, I knuckled down to the job of being a good husband. This involved abandoning my career as an actor in favour of banking, and I applied myself to this different kind of life with all the enthusiasm of a blind man at an art gallery. I wandered, lost, for a number of years.
Time passed. The day I met up with Nic again changed my life, we bought a fairy tale cottage in the middle of a lake, deep in the country, and we settled down. My life was suddenly infused with light, love, peace and happiness. Everything was suddenly right. Our daughter Grace came along, we were blessed. Then, just as our son Freddie was about to be born, on the eve of the new Millennium, I was struck down with a killer virus – when I woke five months later, my arms had been amputated, my legs had been amputated, and I no longer had a face. I didn't even know who Nic was. I thought I would die, I thought I couldn't go on.
Against all odds, I've somehow held it all together. I don't know how, I don't know why, but I'm from Essex, and I really am indestructible. Dealing with my amputations, the physical pain of facial reconstruction and the emotional fallout has been the challenge of my life.
But I think I've won now. I walk, I drive, I work, I'm a husband, I'm a Dad, I'm a writer. I have a truly beautiful family. In some important ways, I'm the man I always wanted to be – and possibly, the luckiest man in the world."