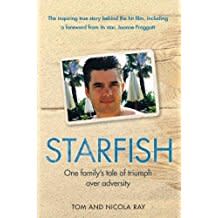 This is a love story. This is a war story.
One night in December a young couple, living in a quiet country village suddenly find themselves embroiled in a battle against an enemy that will threaten to rip their marriage, their family, their entire lives apart.
Pneumococchal Septicaemia: it's like a panther, creeping quietly in the shadows, then pouncing and devouring: brutal; tearing limb from limb; efficient;total.
It is a true story; told from two highly individual personal perspectives, including extracts from diaries written at the time. Nicola was 9 months pregnant with their second child at the time the disease struck and had the heart breaking task of giving birth in the same hospital where Tom was having surgery to revise amputations to his limbs. How do break that kind of news to a 2 and a half year old? How do you get her to visit the father she adores who looks like a monster?
It's about Tom's childhood as well as his illness, showing how the challenges he faced plunged him into a fight to prevent a history of Paternal desertion repeating itself. The unique thing is that Tom has emerged from this experience able to tell his own story, with clarity and extreme self-knowledge.
This is the story that inspired the 2016 feature film 'Starfish' featuring Tom Riley (Da Vinci's Demons, The Collection) as Tom and Joanne Froggatt (Golden Globe Winner, Downton Abbey) as Tom and Nic.