Tracey Curtis-Taylor Biography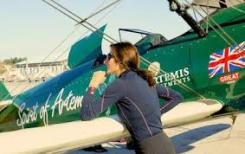 Tracey Curtis-Taylor was born in Stamford, Lincolnshire in 1962, but raised in the wilds of British Columbia, with her three siblings, after their restless father took his family to Canada in 1964 for eight years before returning to England to set up a pizza restaurant in Appleby, Westmorland.
Educated at the local state schools, she was interviewed for Oxford but, when that did not lead to an offer of a place, she rejected university in favour of joining her older sister in London. There, she worked as a trainee diamond sorter for De Beers and in the Foreign Office until 1982, when she quit her job and headed to South Africa, where she spent several eventful months before travelling back to London overland in a Bedford truck.
By this time her twin sister had emigrated to New Zealand and Tracey joined her there in 1983, where she started flying in earnest, having had her first flying lesson at sixteen on holiday to Canada. For several years she worked various manual jobs to pay for her flying and completed both a private and commercial licence before qualifying as a flight instructor. While instructing part time, she also worked for six years in the aerial photography and mapping industry, which took her all over New Zealand. Her real passion, however, was flying old aeroplanes and it was through the New Zealand Warbirds Association that she was introduced to flying Second World War training aircraft and where she met her future husband. Although flying had brought them together, it also drove them apart and, in 1997, Tracey returned to England to forge a new life and pursue her interest in historic aviation. She worked with the Fighter Collection at Duxford, helping to organise the Flying Legends Air Show and basing her 1941 Ryan Recruit aircraft with the Shuttleworth Collection, in Beds, for eight years, during which she regularly took part in the summer flying displays.
Inspired by the film Out Of Africa, Tracey dreamed of flying the continent in an open cockpit biplane. In the four years it took to make that a reality, she commissioned the restoration of 1942 Boeing Stearman in 2012, which became the love of her life. Building a technical support team and securing sponsorship, she took off in November 2013 and, over two months, flew from Cape Town to Goodwood, following the route of pioneering aviator Lady Heath, the first person to fly solo from the South Africa to England in 1928. Tracey's documentary film of Lady Heath's story through the lens of her flight called The Aviatrix: The Lady Who Flew Africa was screened on the BBC in 2015.
During 2015-16, she flew with a support crew from England to Australia, following Amy Johnson's solo flight in 1930. In 2016, Tracey shipped the Stearman to America to fly the historic US transcontinental Air Mail route from west coast to east coast, but disaster struck in the Arizona Desert when she crashed due to engine failure in the desert. Although she walked away unhurt, the Stearman was all but destroyed. However, Tracey had it rebuilt and returned the following year to re-fly the route, culminating in a stupendous final flight into Manhattan and around the Statue of Liberty.