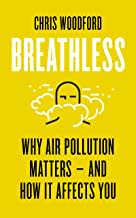 It's ironic that the very stuff keeping us alive is killing more of us than anything else on the planet: the equivalent of 7-10 million people each year—four times more than road accidents, three times more than cigarettes, 15 times more than wars and violence, and more than malaria and AIDS combined. Dirty air affects every country and continent, rural areas as well as cities, and children and the elderly are most at risk. If you knew what the air really contained, you might stop to think twice before breathing it.
Air pollution seems like an irritating throwback to the Industrial Revolution but, 300 years after the invention of the steam engine, it remains the biggest environmental threat to public health. In most major cities people are routinely breathing particulates (microscopic soot, mainly from vehicles) at twice, and in some places up to 10 times, safe World Health Organization guidelines. Remarkably, 90 percent of the world's entire population breathes polluted air. The consequence? Air pollution is now a prime suspect in six of the top ten causes of death—not just lung cancer and breathing disorders, but also heart disease, stroke, and dementia. The simple statistics are shocking enough, but they mask a vast human cost: any of the world's millions of air pollution deaths could follow years of chronic suffering: if dirty air is going to kill you, medical research suggests it will shorten your life by a decade before it does so. And the cost isn't just to our health: according to the World Bank, polluted air robs the global economy of $5 trillion a year—roughly three times what the world spends on defence.
From Delhi (where the air can be as bad for you as smoking 50 cigarettes a day) to Mexico City (where the concrete walls of a cutting-edge hospital are helping to mop up traffic fumes), from Paris (where winter smog wipes the Eiffel Tower from the skyline) to Hong Kong (where tourists, tired of pollution, take selfies in front of fake photographic backdrops), and from Beijing (where a third of air pollution pumps from factories making western goods) to Washington (where politicians are systematically downplaying the links between dirty air and poor health), Breathless takes us on a whistle-stop world tour of a cruelly-neglected issue. Will better technology—things like electric cars—really make a difference? Why do we expect new laws to clean up our cities when old ones have failed to do so for decades? What will it take to make our governments get a firm grip on this most intractable of problems?