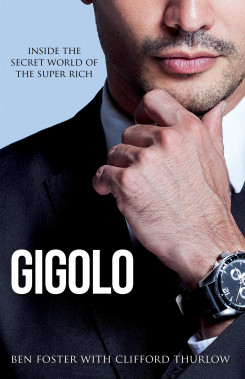 Ben Foster works double shifts for the minimum wage at a care home for boys with learning disabilities. With a young wife and three children under the age of five, he is ground down by poverty and debt.
Sturdy, hard-working, a former trawler-man, he uses the small inheritance from his Gran to qualify as a masseur and acquires one client, Rufus, whom he meets while giving free massages for a gym membership. Rufus's mother, Lady Catherine, is a member of what is mysteriously called the Committee, a group of society ladies who have one thing in common: they adore sex and don't mind paying for it.
With his dark hair, blue eyes and robust appendage the ladies dub Big Ben, the shy, self-effacing care worker is offered a position as a masseur at a luxury spa and is drawn into a world of private jets, Parisian sex clubs, state secrets, lines of cocaine and orgies in country houses with a Who's Who of celebrities, actresses, top models, MPs and the international super rich.
Ben Foster's true life story explores the overt extravagance of old and new wealth in today's Britain. It reveals how the wealthy share a secret unimagined by working people: that they are easily bored and relieve their boredom with multiple partners and through sex that becomes ever more kinky and erotic.
As a well paid gigolo, Ben's bank account swells and he acquires a taste for the good life, while his wife, Kelly, is both suspicious that Ben provides more than just massage to his wealthy patrons and is being drawn into a world that will eventually destroy him. And she's right.
Two years after starting work at the spa, Ben loses his job and Kelly catches him in flagrante with a client. The women whom he thinks of as friends stop answering his calls. His mortgages on two buy-to-rent flats go up beyond his means. The 2008 bank crisis leaves him bankrupt and back working again at the care home.