Born on a Blue Day: A Memoir of Asperger's and An Extraordinary Mind
In this, his first book, Daniel writes about his life from severe epileptic seizures in early childhood to his growing awareness of being somehow different, frequently absorbed in his own world, often confused and frightened by the world of people. From an early age, Daniel remembers numbers as his 'friends' each with its own shape and personality. He describes how he sees the world around him through his unique numerical prism, counting to himself whenever he feels anxious or afraid. He recounts his schooldays, learning skills most people are able to take for granted such as maintaining eye contact and knowing when to laugh at a joke. There are also chapters on falling in love, his remarkable language abilities (he speaks nine languages including Icelandic, which he learnt in a week) and his meeting with fellow savant and the inspiration behind the 'Rain Man' movie, Kim Peek.
Book Author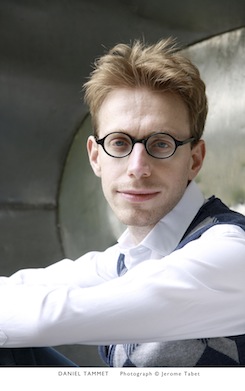 Daniel Tammet is a writer, linguist and educator. A 2007 poll of 4,000 Britons named him as one of the world's "100 living geniuses". He is the creator of 'Optimnem', a website company that has provided language learning instruction to thousands around the globe. His 2006 memoir 'Born On A Blue Day' describing his life with high-functioning autistic savant syndrome was a Sunday Times (UK) and New York Times bestseller. It has sold over half a million copies worldwide, and been translated into 18 languages.Tammet is the subject of the 2005 award-winning documentary film 'Brainman' which has ...
more about Daniel Tammet...
Book Reviews
Sunday Times
"His book is not only fascinating but extremely likeable: as well as voyaging into the further potentials of the brain, Tammett comes across as an exceptionally sincere and decent human being"
Independent
"Daniel Tammet can perform astonishing mathematical feats in his head and learn a language from scratch in a week. He has exactly 45 grams of porridge for breakfast each morning and counts the items of clothing he wears before leaving the house. His extraordinary memoir is a fascinating, and moving, glimpse into the inner life of someone suffering from a syndrome that effects fewer than 50 people in the world."
Cleveland Plain Dealer
"In his remarkable and moving memoir Born on a Blue Day, autistic savant Daniel Tammet recounts firsthand the powerful visual and emotional connections he has with numbers… Tammet, now 28, manages the feat of introspection - and self-insight. His book brims with humanity. His approach is honest, eloquent, at times funny and completely free of pity."
Booklist starred review
"Although Tammet is only 27, his autobiography is as fascinating as Benjamin Franklin's and John Stuart Mill's, both of which are, like his, about the growth of a mind. Not that Tammet is a scientist-statesman or philosopher. He is an autistic savant who can perform hefty arithmetical calculations at lightning speed and acquire speaking competency in a previously unknown language in mere days (the latter capability he used to create the Web-based language-learning systems with which he supports himself). More socially competent and independent than the autistic savant famously played by Dustin Hoffman in Rain Man, Tammet shares his peers' strong preferences for routine, peace and quiet, private space, and literalness, as well as aversion to chance occurrences, aural and informational noise, and figurative language (despite his arithmetical gift, he can't do algebra; he reads a lot but never fiction). He learned fellowship very gradually and says he couldn't really acknowledge his eight siblings until he grew up. He also writes some of the clearest prose this side of Hemingway; he tells his story with such concentration, precision, and simplicity that his familial poverty, schooling as a "mainstreamed" student, self-realization as gay, and embracing of Christianity prove as enthralling as they are, ultimately, normal."
Sunday Times
"Daniel Tammet is a man with an exceptional mind: he can perform mental arithmetic faster than a pocket calculator, and learn a new language fluently, even one as tortuously complex as Icelandic, in a matter of days. Even more admirable, though, are his modesty and guilelessness, so evident in this memoir of outstanding lucidity and charm...People like Tammet used to be called 'idiot savant', but the idiot bit has quite rightly been dropped. There is nothing idiotic about this man."
Telegraph
"In Born on a Blue Day, Tammet describes growing up with numbers as his only friends. He writes so elegantly that the book's oddness only slowly dawns: there is no dialogue, no humour, none of the "silly-me" stuff that you might expect. Instead, he tells his story dead straight, with an eager desire to explain himself."
Joan Bakewell, Mail on Sunday
"One of fewer than 50 such people in the world, he is unique in his ability to articulate his experience. This is his remarkable story, told, as you might expect, in a remarkable way...His writing has a cool, compelling strangeness. His is a unique view of the world...this impressive book."
Daily Mail
"Born On A Blue Day is more or less the first report from inside the mind of an autistic savant.... what makes Daniel truly astonishing is not the unusualness of his mental universe but that he can tell you what it is like."
Darold A. Treffert, M.D., author of Extraordinary People: Understanding Savant Syndrome
"This is a concise book about a very expansive mind. By studying Daniel we may come closer to being able to tap the 'little Rainman' that exists, perhaps, within us all.Daniel has a heartfelt life mission—serving as an inspiration for other persons, demonstrating by his own example that such conditions as epilepsy or Asperger's need not always interfere with overall development and potential. Daniel is articulate, soft-spoken, pleasant, polite, gentle, and modest. Those traits shine through in his writing, and his goals mirror most of our own—becoming closer in our intimate relationships, and becoming closer in our relationships with family and friends as well.Daniel says that numbers are his friends. One comes away from his book with the feeling, through his openness, candor, and reaching out, of having made a new friend as well."
# Simon Baron-Cohen, author of Mindblindness and The Essential Difference
"The probability of someone having both synaesthesia and autism is vanishingly small—about 1 in 10,000. Are Daniel's talents the result of his two rare syndromes coming together in one person? His synaesthesia gives him a richly textured, multi-sensory form of memory, and his autism gives him the narrow focus on number and syntactic patterns. The resulting book is a story of a life that is both remarkable and inspiring."
Temple Grandin, author of Animals in Translation and Thinking in Pictures
"It was fascinating to read how the mind of a mathematical savant is both similar and different compared to my visual brain. Daniel thinks in patterns of color, shapes, and relationships between numbers, instead of photo-realistic images. This book is a must read for anybody who is interested in how the mind works."
New York Times
"Something in the way that Mr. Tammet describes the beautiful, aching, hallucinatory process of arriving at his answers illuminates the excitement of all cogitation."
Kirkus starred review
"A riveting account of living with autism...transcends the disability-memoir genre."
Alex Bellos
"...a charming and insightful memoir of living with Asperger's..."