Napoleon and Hitler
Napoleon and Hitler are two of history's most terrible dictators. In this ground-breaking book Seward reveals strikingly close parallels between them.
Each man was an outsider, one a Corsican squireen's son, the other an Austrian petit bourgeois, and at first regarded with .contempt by the Establishment of his time. Although Napoleon achieved power young and Hitler had to wait longer, their political and military careers were remarkably similar. For each the grand design was the conquest of Europe. Each of them saw Britain as a deadly enemy, planning invasions that had to be aborted. Each conquered vast territories in Europe and then turned on Russia, where he was destroyed. Contemptuous of human life, neither would acknowledge the folly of a consuming megalomania. Finally after inflicting catastrophic destruction, each failed totally, his career ending in utter ruin.
For the first time, Seward shows convincingly how Carl von Clausewitz's treatise On War - a penetrating analysis of the Napoleonic campaigns that Hitler read and re-read - provides a crucial link between the two tyrants.
In an entirely new way Napoleon and Hitler shows history repeating itself, and in doing so gives new and unexpected insights into both men.
Book Author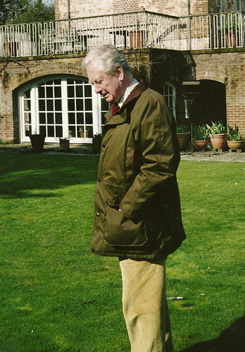 Desmond Seward was born in Paris and educated at Ampleforth and St Catharine's College, Cambridge. He is the author of many books including The Monks of War: The Military Religious Orders, The Hundred Years War, The Wars of the Roses, Eleanor of Aquitaine and Henry V as Warlord, Josephus, Masada and the Fall of Judaea (da Capo, US, April 2009), Wings over the Desert: in action with an RFC pilot in Palestine 1916-18 (Haynes Military, July 2009) and Old Puglia: A Portrait of South Eastern Italy (Haus August 2009). Forthcoming is The Last White Rose: the Spectre at the Tudor Court 1485-1547 (C...
more about Desmond Seward...
Book Reviews
Hugh Trevor-Roper, Sunday Telegraph
"A careful study, clearly written, easy to read. He takes us through the careers of both men in turn, side by side, noting the similarities as he goes along. I am reminded of Plutarch's "parallel lives" of the great Greeks and Romans ... His interesting book deserves to be read both by those who would "demonise" Hitler and those who are dazzled by Napoleon."
Geoffrey Hodges, The Independent
"Desmond Seward is right to draw attention to their similarites, and to their differences. We should study both: both are among the possibilities inherent in our civilisation. When he set out to exterminate the Jews, Hitler asked: "Who now remembers the Armenians?". To have remembered Napoleon might have protected Germany against Hitler. To remember Hitler is the only protection against his successor."
The Chicago Plain Dealer
"Seward's lively, informative book develops many of the parallels between the careers of two of modern history's most awesome conquerors."
Booklist
"Intriguing ... solid historical biography with a compelling psychoanalytical slant."
Publishers Weekly
"Seward presents an edifying, unconventional dual portrait ... the psychological parallels he draws are uncanny."
Kirkus Review
"A clever and cohesive look at megalomania in action ..."