Piu Eatwell Biography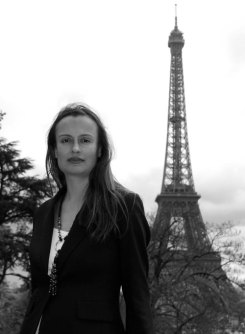 Piu Eatwell is based in Paris, France. She writes historical true crime as well as books about her adopted home country.
Piu was born in India, of mixed Anglo-Indian descent. She studied English at Oxford University, graduating 'summa cum laude' with a starred First Class degree, ranked 4th out of all students taking the final examination. As an undergraduate at Oxford, Piu won a scholarship and was awarded the Skeat-Whitfield Essay Prize, for an essay on the work of the eighteenth century English writer, Laurence Sterne. She subsequently worked as a lawyer and television producer for the BBC and other TV companies.
Piu's first book, They Eat Horses, Don't They? The Truth About the French won the Next Generation Indie Award for non-fiction and was the Daily Mail and the Times book of the week. Her next book, The Dead Duke, his Secret Wife, and the Missing Corpse, is a true-life historical mystery based on a famous Edwardian trial. The Dead Duke was an Amazon bestseller and was included in the Amazon and Goodreads Best Books of the Month for October 2015. It was also shortlisted for Best History Book of the Year in the 2015 Goodreads Readers' Choice Awards.
Piu's next French-themed book, F is for France: A Curious Cabinet of French Wonders, was published in June 2016. Her latest book, Black Dahlia, Red Rose, reverts to historical true crime and presents startling new evidence in relation to a notorious murder that took place in Los Angeles in 1947. Black Dahlia, Red Rose is due to be published in 2017, the 70th anniversary year of the Dahlia murder.
When not delving in history archives or writing about her adopted country, Piu divides her time between London and Paris. She is married with three children.
How I Found the Agency
I found the Andrew Lownie Agency entirely by chance (or rather, Andrew "found" me!). Having no contacts whatsoever in the publishing world, I emailed a short proposal to the agents listed in the Writers' and Artists' Handbook – getting as far as the alphabetical letter "M" before I decided to take a break. Of the three interested responses Andrew was the first, getting back to me in an amazing couple of hours. He was so quick I thought he must be a new agent looking for work - it was only later that I found out that he is in fact the top non-fiction agent! Having experienced the tardiness and arrogance of many in the publishing world, I consider myself extremely lucky to have found someone as efficient, enthusiastic, and proactive as Andrew, and as skillful in shaping a work in progress.