Special Forces Sniper Skills
Special Forces Sniper Skills is a hard hitting account of the men, weapons and techniques used to eliminate high value targets on the battlefield, in hostage situations, in political assassinations and elsewhere.
Though many books have become best sellers though telling one side of the story – a snipers' experiences, a training manual or a weapons catalogue – none before have combined the whole spectrum of a sniper's life and skills into one gripping book. Selection, training, weapons, field craft, tactics, special operations and much more. This book covers all these facets and does not stop there: It goes on to examine the role of a sniper, and the unique skills employed, when serving as part of a Special Forces unit such as the British SAS, the US Navy Seals or the Russian Spetznaz.
The book is illustrated throughout with photographs of every aspect of the sniper's trade and stories from the real-life experiences of the author's comrades: Men who have served in almost every overt and covert conflict since the Second World War.
Inside The Sniper's Head: Cold blooded murderer or professional killer?
The History Of Sniping: From Roman heavy crossbows to the rifle they call "Long Range Death"
Death From The Middle Distance: How to choose your long range rifle.
The Shooting Gallery: Our best weapons - and theirs.
Seeing The Enemy First: Choosing telescopic sights for your rifle and binos for your spotter.
One Shot One Kill: How to kill efficiently at long range.
A Tiger Waiting Unseen: How to become the ultimate ambush predator.
Controlling An Area: Selecting a target for termination.
Extending Your Reach: The sniper on patrol.
The Hunting Club: High value targets, special operations, assassination and working with spooks.
Incoming Fire: Defending against and catching enemy snipers.
Ray Guns, Rail Guns & Drones: Sniping weapons of the future.
Book Author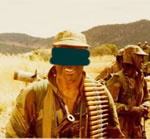 At the age of sixteen, Robert Stirling joined the British Army as a Junior Leader Paratrooper and so spent his first year of service undergoing a strict training regime which alternated weapons skills, drill, physical exercise and education all designed to prepare a soldier for leadership. Entering adult service and passing P Company, the Parachute Regiment selection, led to four tours in Northern Ireland and some covert experience wearing a donkey jacket and carrying an 9mm pistol. He was probably the second youngest ever to pass selection for the SAS at 19 years of age.Robert left the Bri...
more about Robert Stirling...
Book Reviews
Sorry, no book reviews are available.