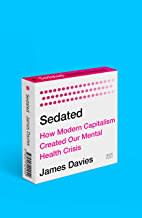 Over 20% of our adult population takes a psychiatric drug on any given day. But good mental health outcomes are falling, while mental health disability is going up. Despite spending £18 billion annually on mental health services, things are going from bad to worse. So why are successive governments failing to act? Is it really all down to poor investment, or is there something more ominous about our whole approach to mental health that politicians are simply unwilling to confront?
Since the 1980s successive governments and big business have worked to promote a new vision of mental health; one that puts at its centre a new kind of person: optimistic, extraverted, team-working and above all, economically productive – the kind of person the new economy needs and wants. As a result, our entire approach to mental health has radically altered to meet these market demands: defining 'return-to-health' as a 'return-to-work'; blaming suffering on faulty minds and brains rather than on harmful social, political and work environments; while promoting highly profitable drug interventions, which, if great news for big business, are in the long-term holding millions of people back.
This book tells the story of how, since the 1980s, this pro-market agenda has begun to harm a nation, turning our entire approach to mental health into a potent New Opium for the people – an approach more preoccupied with sedating us, depoliticising our discontent and keeping us productive and subservient to the economic status quo, than with understanding and solving the real roots of our emotional despair. By putting economic servitude before individual health, our priorities have been dramatically misplaced, and more suffering, paradoxically, has been the unhappy result.
This book is unique in the genre of writings on mental health in at least three ways. It is the first popular book of its kind to illuminate how the grand economic reforms of our times have corrupted how we now understand and manage our emotional suffering, leading to worsening mental health outcomes and disability overall. Secondly, its scope is much wider than other books in the genre, covering the whole broad thrust of mental health provision in an accessible way, rather than focusing on one aspect (drugs or therapy) as most books do. Thirdly, this book emerges from the author's unique set of circumstances. By drawing on his extensive clinical, academic and parliamentary experience it will take the reader right into the corridors of power, showing through unsettling interviews and bizarre encounters what drives our current crisis in mental health, while also bringing to life through compelling case studies and patients' stories, the serious harms these hidden failings cause. We finally learn what must be done to create a mental health system fit for the 21st century.