Rasputin: The Untold Story
Rasputin, the Untold Story, will be the first biography of the Siberian adventurer to appear in over thirty years. It is also the first study of Rasputin to draw fully on archives closed to foreign scholars before the collapse of the USSR. Dr. Joseph T. Fuhrmann is the world's leading authority on Rasputin, and his command of Russian enabled him to study forgotten documents in Moscow's Central State Archive, as well as obscure repositories in Siberia. This eloquently written biography offers exciting new information and insights concerning
Rasputin's Siberian background and early years.
His introduction to Nicholas II and Alexandra and his ability to control their son's painful afflictions with hemophilia.
Rasputin's unorthodox religious teachings and the sexual practices that tied his followers into a cult.
His relations with the Empress, including the continuing speculation that they were lovers.
The incredible power the peasant came to wield in the Russian government and Church.
His relations with prostitutes and homosexuals and the latest allegations that Rasputin was bi-sexual.
Rasputin's murder and the recent theory that it was planned and carried out by BSIS, the British Secret Information Service.
Russians' enduring fascination with Rasputin and efforts to see him recognized as a saint.
Rasputin, the Untold Story is an unforgettable journey into the twilight world of Late Imperial Russia.
Book Author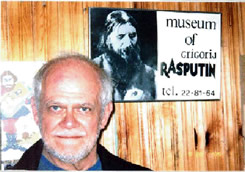 Dr. Joseph T. Fuhrmann fell in love with Russia and her past as an undergraduate at Emory University. His graduate degrees are from Indiana University. The first of the seven times he lived in Russia was in 1965-66, when he was an exchange student at Moscow University during an unusually chilly moment in the Cold War. He retired after a 43-year career as a history professor in the USA. Dr. Fuhrmann's books include an edition of the 1,620 letters and telegrams Nicholas II and his wife exchanged during WW I and a 1989 biography of Rasputin.
more about Joseph Fuhrmann...
Book Reviews
Publishers Weekly
"..this vivid, briskly written biography brings to life one of the most colorful and sinister figures in modern Russian history."
Boston Globe
"a vivid if not lurid portrayal."
Rob Moshein, administrator and co-owner of the Alexander palace Forum
"Extremely well written, concise, and as promised in the foreword, he leaves the reader to draw their own conclusions."