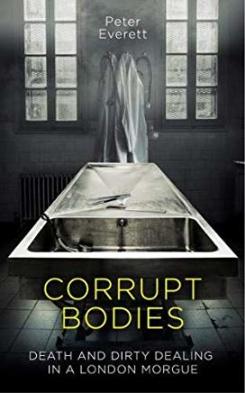 When Peter Everett (35) learned he'd got the job as Superintendent of Southwark Mortuary in 1985, he couldn't believe his good fortune. In just six years he'd gone from lowly assistant to running the UK's busiest murder mortuary (also mortuary to the Royal Family). What he didn't know was that Southwark, operating in near-Victorian conditions, was a hotbed of corruption. Attendants stole from the dead and funeral homes paid bribes to Coroners' Officers for preferential treatment. There was also a lively trade in stolen body parts, as well as recycled coffins and flowers that more than doubled his colleagues' salaries.
Peter had little time to take this in. As mortuary superintendent, he managed the pathologists, oversaw Post Mortems (PMs) and attended murder scenes dealing with 400 deaths and murders in 1986 alone, a year so busy (coming hot on the heels of a year of racial tension and the Brixton, Toxteth and Tottenham riots) that bodies had to be piled on top of one another.
Also that year, in the long, hot summer of 1986, Peter noticed an unusually high number of cases of strangulations (a rare form of murder). It eventually became clear that a serial killer – eventually known as the Stockwell Strangler – was on the loose. The strangler attacked his victims in the middle of the night, climbing in through windows left open in the heatwave.
Set in the fascinating pre-DNA/psychological profiling years of 1985-1987, and beginning with the extraordinary case of the kidnapping-murder of Stacey Kavanagh (4) and Tina Beechook (7) before moving on to the gripping hunt for the Stockwell Strangler (official tally 7, Peter's tally 11+), Corrupt Bodies provides a unique insight into the world of death. Covering cases of evisceration, exhumation, poisoning, suffocation, hanging, stabbing and shooting, this is a gripping and gruesome tale that readers are unlikely to forget.
Peter became the key player in a huge anti-corruption sting operation that ended with 43 arrests (including many police officers). He was the lead news story in every paper and TV Channel when he gave evidence against his colleagues at the Old Bailey – making a great many enemies in the process. Thanks to this, and to the sheer volume of work, carried out in appalling conditions, Peter and his small team of pathologists were pushed to the limits of their endurance. Indeed, the stress took the life of one of his colleagues just before Peter suffered a mental collapse, which saw him committed to Guy's Psychiatric Hospital.