The Ultimate Guide to Filming Locations in New York City
Have you ever watched a film and wondered where they actually filmed it? For instance, where, exactly, was the fire house that became the headquarters of The Ghostbusters? Or Josh Baskin's spacious apartment in Big? Or the bar where Billy Batts gets whacked in Goodfellas? Or the glittery disco where Tony Manero strutted his stuff in Saturday Night Fever?
For some, a filming location may be a fun place to visit while they are in New York City either permanently or on vacation. However, there are others who, given the opportunity, who would like would like a more detailed approach to both the numerous locations and the diverse neighbourhoods in New York. The Ultimate Guide to Filming Locations in New York City looks not only to include many of the most famous locations, but also to reveal hundreds more that have long become lost.
The Ultimate Guide to Filming Locations in New York City is just that: the ultimate guide. It's the perfect book for people who not only love seeing where a film was shot, but a valentine to New York City itself and its ever-changing landscape in the movies.
The Ultimate Guide to Filming Locations in New York City presents 500 unique locations that have starred in 100 diverse films from the last 50 years where New York is as big a star as the actors and actresses who appear in them. Its key features are:
A two page chapter for each film featured in the book including information and 5 locations from each film.
Comparative pictures of all 500 location -- how they looked in the movie then and how they look now.
Each location has a reference to the tour it is featured in.
Each location will to have the exact address listed.
9 Walking tours of Manhattan.
1 Walking tour of the Brooklyn Heights Area
4 "Subway Tours"; One each for The Bronx, Brooklyn, Queens and Staten Island.
Each tour advises on a route that takes in all the locations in a given area. A map is also included for anyone who wishes to have a more personal tour.
Hints, tips and advice on the best way to enjoy their tour. For example, if one wants to take pedestrian-free photos in the Times Square area , Sunday Mornings provide the best opportunity.
The book itself will have approximately 25,000 words, featuring 500 film scenes and 500 photos taken by the author as they appear today. It will be very much what you would see in a "Then and Now" Book.
While the book at present is aimed towards 100 chapters on the films themselves with the 15 walking/subway tours as separate chapters, it can also be manipulated to present the information and photographs in a purely walking-tour format if a publisher so wishes. That, however, will require additional time for the author to reformat.
Book Author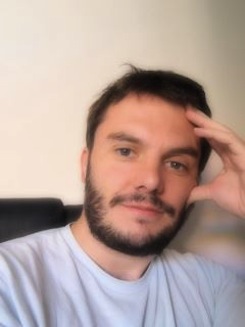 Jamie Pike is an avid movie location hunter in his spare time. By day he is a senior reporting accountant at RBC based in Guernsey, Channel Islands. With over 15 years experience of preparing financial statements he is looking to combine his professional skills and hobby to produce an accurate and interesting book on the largely uncovered subject of movie locations in his favourite holiday destination, New York City. Jamie lives with his partner Alison and their children, Emily and Daniel.
more about Jamie Pike...
Book Reviews
Sorry, no book reviews are available.