El Cid: The Making of a Legend
'And so the Cid rode out of the gates of history – and into legend.'
So runs the voice-over of one of the most unforgettable scenes in Hollywood history as Charlton Heston, dead and rigid, buckled into the saddle of his white stallion, rides out of Valencia into a dawn that would sweep the evil emir Ben Youssuf and his black-clad hordes back into Africa. 'No one ever,' read the film's publicity with pardonable hyperbole, 'was quite like him.'
How did Rodrigo Diaz de Bivar, El Cid, who was just another eleventh century warlord like countless others, become so famous? Why was an epic film with a staggering budget made about him? Why is he the national hero of Spain and why is there a statue of him in New York City, three thousand miles and a thousand years away from the man and his times?
M J Trow strips away layers of legend and history to reveal the true figure of the Cid; a 'traitor' who fought for Muslim as well as Christian, sending a shudder of outrage through Castile and the whole of Christendom; a hero who was named 'king's champion'; a man who died, not in battle, but peacefully in his bed.
He investigates the dozens of legends that have grown up around the man since his death, examines the way in which Spain's politicians and ruling elite have used the icon of the Cid for their own ends and looks at the fascination he has held for writers in many countries, including the poet Southey. Set against the historical context of the enigma that is Rodrigo Diaz, the Campeador, this is a riveting and dramatic investigation of how men become myths and history becomes legend.
Book Author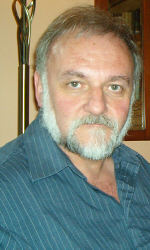 M .J.Trow bills himself in many of his books as the only Welshman who cannot sing or play rugby. A military historian by training, graduating from King's College, London and Cambridge, he has spent most years of his life at the chalk face of comprehensive schools which has given him the inspiration for his latest fictional detective Peter 'Mad Max' Maxwell.The first detective series appeared in 1985 in the form of Inspector Lestrade, late of the Conan Doyle canon and after sixteen hilarious, bloody and intriguing outings, the world's second greatest detective hung up...
more about Mei Trow...
Book Reviews
Sorry, no book reviews are available.