Maxwell's Ride
It's a busman's holiday for Peter 'Mad Max' Maxwell, saddled with two precocious nieces who insist he takes them to a theme park. While riding, white-knuckled, the Wild Water, a passenger is killed in the float ahead, and Maxwell and the girls become eyewitnesses to murder.
The dead man was an accountant working with CHARTS, a charity organisation sponsoring Leighford High School where Maxwell works. With the help of a local reporter, Mad Max delves into CHARTS and begins to unearth a complex web of murky secrets.
The corpses multiply as Maxwell nears the end of his search for truth - but will one of them be his own niece...?
MAXWELL'S RIDE is the fifth outing for Peter 'Mad Max' Maxwell, the irascible Head of Sixth and memorably unlikely sleuth who is about to tackle his most complex and intriguing case. He's also about to find himself in great danger as he seeks to protect his nearest and dearest.
Book Author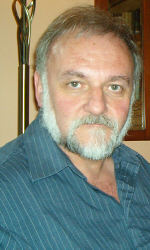 M .J.Trow bills himself in many of his books as the only Welshman who cannot sing or play rugby. A military historian by training, graduating from King's College, London and Cambridge, he has spent most years of his life at the chalk face of comprehensive schools which has given him the inspiration for his latest fictional detective Peter 'Mad Max' Maxwell.The first detective series appeared in 1985 in the form of Inspector Lestrade, late of the Conan Doyle canon and after sixteen hilarious, bloody and intriguing outings, the world's second greatest detective hung up...
more about Mei Trow...
Book Reviews
Birmingham Post
"The most sardonic wit in current crime fiction … one reads Trow's books for the brilliance of his writing."
Yorkshire Post
"One day Trow will get the recognition he deserves. He is a consummate plotter, not afraid to tread new ground and his Maxwell stories exude compassion and wit in equal measure… Trow's hero is in a class of his own … It's almost impossible to second guess Trow, so top marks for the scholarly sleuth."