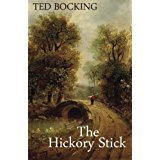 In January 1840 Barnaby Madden, a handsome young man living in poverty with his parents on the north Norfolk coast, responded to a newspaper advertisement seeking recruits for the new Norfolk County Constabulary. He walked to East Dereham where he was interviewed by the new Chief Constable, offered the job, given just three days' instruction and sent on his way as a newly fledged guardian of the peace.
In less than three years Barnaby Madden's life changed from being a trainee boat builder to an experienced county police constable with a new wife.
During that time Barnaby encountered thieves, robbers, rapists, kidnappers, smugglers, tramps and toffs. He ran the gamut of emotions and experiences from total rejection as a policeman to the arms and beds of various women at both the top and the bottom of society, from assaults and beatings to near drowning.
In this new novel, Ted Bocking tells a lightly fictionalised version of Barnaby's story, based upon the scribbled notes left to him by the real life Barnaby, the author's great-grandfather. The Hickory Stick is the first of two books (the second is The Ashen Rung) telling the tale of Barnaby's experiences during his first two years as a Police Constable in Victorian rural Norfolk.
Many of the hilarious or tragic characters and events described in The Hickory Stick did actually exist and did take place, whilst others are purely figments of the author's imagination. It is a tale of joy and sadness, sometimes despair; anger both at the criminal fraternity and the "establishment", it tells of emotional involvements and outrageous casual romantic encounters. It is also a story which shows some of the hardships and injustices of life in a sparsely populated rural area and the wide division between rich and poor. It also tells of some hilarious exploits, the like of which would never be seen today.