Ariel Anderssen Biography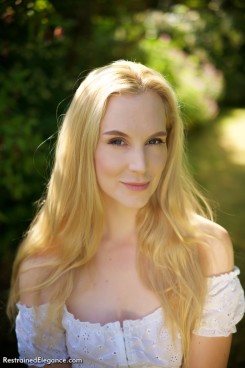 Ariel Anderssen is a veteran, multiple award winning, British BDSM model with a lifetime's fascination for submission and masochism. She grew up in Horsham, West Sussex. The daughter of a nuclear physicist, Ariel and her older sister Imogen were brought up as Jehovah's Witnesses by their devoutly religious mother, and to a lesser extent by their father, who was busy with the Chernobyl nuclear reactor in the wake of the 1986 disaster.
Having grown up in a religion that was confidently predicting the end of the world by the mid 1990's, Ariel didn't expect to actually reach adulthood and need a job. When she reached 16 and the world hadn't ended after all, Ariel took a place at the Academy of Live and Recorded Arts. Here, she specialised in Shakespearean performance, dramatic combat and physical theatre. Upon graduating, Ariel was immediately cast in a series of fringe Shakespeare productions in London, followed by several national tours, including A Midsummer Night's Dream (in which she played Titania) and Twelfth Night (Olivia). Her TV credits from this period included The Real Casanova (Channel 4), Real Crime - Jeremy Bamber (ITV). She played a leading role in Killing Brae, which won Best No Budget Picture at the London Independent Film Festival, and won Best Actress for The Dossier at the Independent Film Awards
Stumbling into an exhibition of BDSM artwork by mistake at age 25, she discovered to her delighted surprise that she was not alone with her interest in sadism and masochism, dominance and submission. Since she'd recently started working as a model in order to supplement her actor's earnings, when a well-known BDSM photographer exhibiting at the gallery offered her a photoshoot, she accepted with alacrity.
Subsequently, Ariel became one of the best-known fetish models in the UK, and by 2010, she was one of the most recognised BDSM models in the world, working extensively through Europe, the USA and beyond. She is the 2020 winner of Best Submissive of the Year (MV Awards), and has won Best Actress at the Spanking Awards multiple times. She's been a Guest of Honour at Fetishcon (the largest USA bondage convention) and at Boundcon (the world's largest BDSM convention, held in Munich).
Ariel formed a creative partnership with Hywel Phillips, CERN particle-physicist-turned-award-winning-fetish-photographer early in her career. Their erotic work, coupled with the educational material they've produced for the BDSM community, has made them well-recognised names both within the international fetish world and the wider model & photographer community in the UK. Ariel continues to work as a mainstream model and performer alongside her fetish career, having modelled for Zandra Rhodes and many other designers, walked at London Fashion Week, appeared in works exhibited at the National Portrait Gallery, featured in a campaign for Coco de Mer and modelled extensively for renowned miniaturist painter Bill Mundy.
Having once believed that she was a danger to society, Ariel's mission statement is now to create BDSM-themed work that shows other people that they are not alone, and that their desires are ok. To this end, she has an unusually interactive relationship with her fans and has built a reputation for honesty and frankness about her sexual identity. She has a YouTube channel about 'How to be a Really, Really, Really Old Model', and Tweets daily about her life as a submissive masochist. She lives in Wales with her husband, surrounded by mountains which they climb in their spare time. Her hobbies include dressmaking and collecting antique swords.