James Brockhurst Biography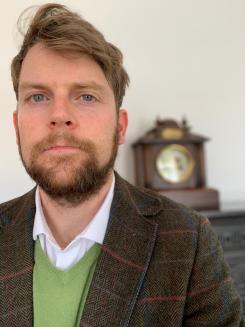 James read law at Warwick before attending law school at the University of Law in Bloomsbury, London, where he taught piano in his spare time.
In 2010 he joined a law firm in the Sanctuary Buildings, annexed to Westminster Abbey, where he qualified as a tax lawyer. He now practices in Mayfair for Forsters LLP, a leading English firm of solicitors, where he advises many UK and Middle Eastern clients. He has been recognised as a 'Prominent Lawyer' in his field (Citywealth Publication) and has been three times named as a 'Top 35 under 35' practitioner (EPrivateclient).
In January 2016 he began researching Churchill's career at the Exchequer, applying his deep knowledge of tax. He has a long standing interest in political history, having also studied politics at the University of Liverpool under a number of British and American professors, many of them left-leaning.
Outside of writing and the law he was Treasurer of Christ Church Spitalfields (the "Cathedral of East London") from 2017 – 2021. He also plays in a country and western band, although they are yet to take the world by storm. He is married with two children.