Steve Wheeler Biography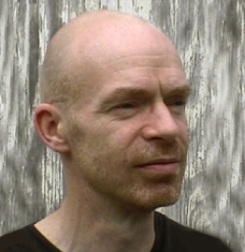 Steve Wheeler studied Fine Art at The Slade and has gone on to widely exhibit his work which ranges from texts, drawings, prints, paintings, and sculpture, to site-specific installations. He has shown his work in numerous London and regional galleries in the UK, as well as in Ireland, Holland, Germany, Austria, India, and the USA. After many years in London, he moved to Whitstable in Kent where he currently lives with his wife and three children. As a family, they have also spent periods of time living and working in Bangalore and Sydney.

As a curator and exhibition organiser, Wheeler has a track record for innovation in using venues that have included private houses, shops, factories, warehouses, and abandoned synagogues. In 2015 he set up Gallery in Space, a virtual exhibition platform.
His involvement with writing has spanned articles, essays, and short stories, through to billboard commissions for London Underground and novel length works. In the 1999 ROOT project his reworkings of a 'sound piece' by Thurston Moore of Sonic Youth, saw his composition on an album alongside the likes of Bowie, Blur and Massive attack. In 2005 he organised and curated News From Nowhere: Visions of Utopia in the birthplace and home of William Morris. The show encompassed eight venues with an international line up of 150 artists, designers, film makers, musicians, writers, and performers.
He has combined his creative work with a career as a lecturer in art and design. For the past three years, he has been teaching art in prisons. This life changing experience has resulted in The Art of Crime: Diary of a Prison Art Tutor.
How I Found the Agency
I sent Andrew my proposal and he got back to me almost immediately. He has been very supportive in helping me to shape my work with invaluable advice. He seems as excited about the potential of my book as I am.