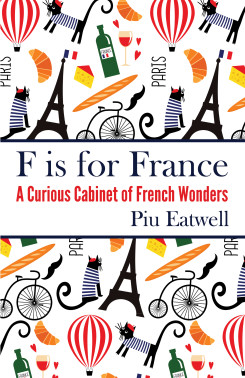 Did you know that –
- In France, it is illegal to call a pig Napoleon…
- There is a village in France where it is an offence to swear using the word 'donkey' or 'ass', the punishment being that the offender is obliged to offer the maligned creatures in question sugar lumps or carrots, as a peace offering….
- There is a verifiable wild kangaroo population in the woods outside the city of Paris….
- A true salade niçoise should NEVER contain green beans or potatoes….
All these – and many more – curious facts, figures and features of the world capital of culture, cuisine and style – FRANCE - are revealed in this gem of a treasury. F is for France is a compendium of everything you didn't know about the world's favourite tourist destination: facts and insights that are astonishing, bizarre, or hitherto well-kept secrets of the francophone world, revealed to anglophone readers for the first time.
The author, Piu Eatwell, has lived for a decade in France. Her first book – They eat horses, don't they? The truth about the French – an examination of myths about the French and whether they are true or not - was described by the New York Times as "A highly entertaining book… The France she depicts offers a welcome corrective to the charming postcard tableaux on display in the faux innocent-abroad works that have proliferated like multicolored macarons." F is for France promises to continue the revelations and unmask the clichés even further, in a compact and highly-readable format that will be the indispensable travelling companion to every real (and armchair) traveller to the world's favourite country.