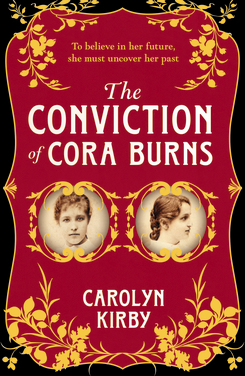 WINNER - Bluepencilagency First Novel Award
RUNNER-UP - Daniel Goldsmith First Novel Prize
LONGLISTED - MSlexia Prize
The Conviction of Cora Burns is a thriller set in 1880s Birmingham about a troubled young woman, Cora Burns, who uncovers the dark secrets in her past through an encounter with new ideas about Nature versus Nurture.
Cora has always struggled to control the violence inside her. Does this temperament come from the mother she never knew, a convict who gave birth to her in gaol? Or is Cora a product of her harsh upbringing in the workhouse? Whatever the origins of her impulses, Cora fears that they may have led her, when she was herself a child, to kill a little boy.
But does the blame really lie with Cora's childhood friend Alice Salt? Alice was there when the boy died then disappeared. Years later, when Cora is imprisoned for an assault on own her baby and tormented by grief and shame, she resolves to know the truth that only Alice can reveal. Cora's sole clue to finding her workhouse "sister," is a bronze medal cut in half and engraved with the word "SALT."
On her release, Cora finds herself working as a servant in the home of Thomas Jerwood, a gentleman-scientist obsessed with his study of heredity. Here Cora befriends a young girl, Violet, who seems to be the subject of a living experiment into upbringing and character. But are there two identical girls called Violet? And is Jerwood also secretly studying Cora?
Then, when she finds a set of coins in Thomas Jerwood's collection that are just like her own half-medal, Cora's hidden past begins to unravel. Is she as cold and selfish as the man who now seems to be her father? And is she as vulnerable to madness as her mother who was also Thomas Jerwood's servant and who has spent the past twenty years in the asylum? Cora's turmoil culminates in the discovery that Alice Salt only ever existed in her own imagination. The crimes in Cora's past are hers alone.
But Cora realises that although her complex nature may be inborn, her grit is her own. With ingenuity and determination she finds a way to help Violet, and in doing so grasps an opportunity to create a hopeful future for herself and her son. Personality is not, after all, an unalterable product of biology and upbringing because Cora finds, in the end, the strength to change.