James Penhaligon Biography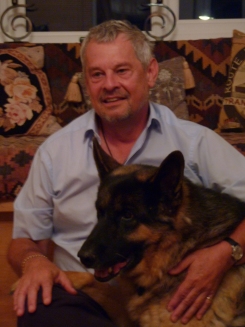 James Penhaligon is a retired medical doctor and consultant psychiatrist living in Cornwall. Married, with children & grandchildren, he speaks four languages. He has lived and worked in East and South Africa, the Netherlands, New Zealand and the UK. During ten years in general practice he became intrigued with the workings of some of his patients' minds, and it led him to specialise in psychiatry in the UK, and spend the next thirty years working in that fascinating field.
He gained experience and knowledge from patients and colleagues, other professionals, textbooks, and journals. He authored or co-authored many articles, published in British & international psychiatric journals and publications. He was a contributing author of a textbook on learning disabilities, and an editor of a comprehensive textbook of general psychiatry for Churchill Livingstone publishers, London.
Outside of medicine he was always interested in general literature. Writing as Francis Keast, he wrote four crime fiction novellas in the 1980's. In 2010 he self-published a 120,000-word memoir about his childhood growing up in East Africa, called 'Speak Swahili, Dammit!' It has had more than 1000 reviews between Amazon Books UK, USA & Germany, with an average reader rating of 4.6 stars out of 5. In 2019 he again self-published a 100,000 word book of fiction about a Cornish smuggler, entitled 'Finding Ignatius' which is selling on Amazon.
His career, living in different parts of the world, his cosmopolitan background and lifetime of writing, both professionally and in contemporary literature, fiction and non-fiction, have given him broad experience. His passion for psychiatry and literature came together in the writing of this book
How I Found the Agency
Coming from a medical background where all my articles and research were automatically submitted to psychiatric journals, entering the realm of more commercial publishing was daunting. I spent a huge amount of energy and time self-publishing my first two commercial novels. This time I was keen to secure a contract with an established agent so that I could just focus on writing, which is what I want to be doing.
Having perused the Writers and Artists yearbook thoroughly and being none the wiser, I turned to the internet for inspiration. Here I found The Andrew Lownie Agency and I was very impressed with the website, as well as the high esteem in which the agency is held. Importantly, it is particularly interested in works of non-fiction, the genre of my latest book.
I contacted Andrew Lownie and found him to be very helpful. He always gives prompt and insightful advice, and he initially pointed me in the direction of an expert editor. We have now reached a point where the agency has agreed to represent me, and I look forward to a long and fruitful relationship with Andrew.