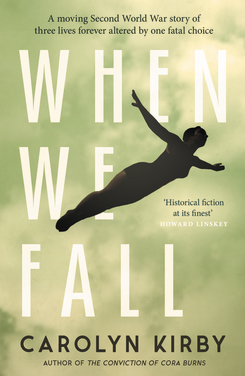 1943 : on opposite sides of Europe, two young women grapple with the dilemmas of life in wartime unaware that they are in love with the same man.
In England, Vee Katchatourian is determined to qualify as a ferry pilot despite her sex and her foreign name. But her determination sometimes makes her reckless. And her success as a pilot is put at further risk when, after a forced landing, she meets a foreign airman, Stefan Bergel, and can't then get him out of her mind.
In occupied Poland, Ewa Hartman is living a double life. She plays up her German heritage as she serves the Nazi officers billeted in the family guest house but in secret she is working for the Polish resistance, the AK. Ewa still mourns her lost love, Stefan, a pilot in the Polish Air Force who was captured by the Soviets at the start of the war. But she nevertheless finds herself becoming unstoppably attracted to one of the SS officers staying in her home.
Unknown to both women, Stefan Bergel escaped from captivity in Russia in circumstances that continue to haunt him. During the notorious massacres of Polish officers by Soviet agents in the forest at Katyn, Stefan was forced into a terrible choice about his nationality. The act he then committed will shape the rest of his life. And so, in April 1943, after learning about the discovery of mass graves at Katyn filled with the bodies of Polish officers, Stefan returns to Poland with a daring plan to expose the real culprits behind the war crime. But his desperate quest for justice outlives the war and ultimately puts Vee and Ewa's lives in jeopardy as well as his own.
Rooted in real events, WHEN WE FALL is a story of conflicted cultural identities in a time of war. The paths of three young lives alter forever because of a fatal choice made amidst the horror of genocide. But despite the scale of the atrocity, the truth is ignored for decades and only one of the three protagonists lives to see the long aftermath of the killings.